©1971 Universal Education and Visual Arts. All rights reserved.

Catalog Number
71-001
Format
Standard Play CAV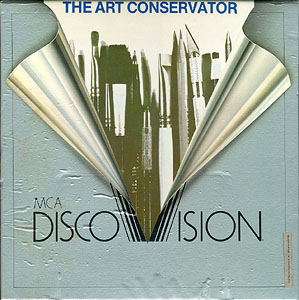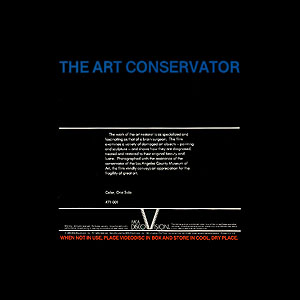 ---
Mono
Pressing Location
DiscoVision Carson
Label Color
Green
Retail Price
$5.95
Year Issued
1979
Side
Chapters
Frames
Running Time
1
2
28,749
19min 57sec
Dead Side
Various
Ratings
Video Transfer
Audio Transfer
Replication
Packaging
Open-Top
Side-Open Sticker
Printed
Pressing Notes
Bruce Seth Green, the man responsible for The Touch of Love...Massage produced this 20 minute documentary based upon the restoration of objects in the art world in 1971. This transfer, taken from a 16mm print, shows the age of the elements. The sound is what one would expect from a 16mm print played from the projector in your old elementary school (provided anyone knows what that is anymore). Disc replication is only average, with the typical minor speckling of most DiscoVision titles.

There is nothing special about the chapter stops placed in this program. Chapter 1 is at the beginning, with chapter two dropping in the middle of a sentence, and no where near a change in topic. I suspect it's not supposed to exist at all.
---
Release History
The Art Conservator was never been reissued on LaserDisc.
---
MCA DiscoVision Home Page
---
Updated: November 4, 2016
Copyright ©1998 Blam Entertainment Group