OPERATING INSTRUCTIONS
FOR THE
MCA DISCOVISION
PR-7820 SYSTEM
©MCMLXXIX MCA DiscoVision, Inc. All rights Reserved.

Catalog Number
01-001
Format
Standard Play CAV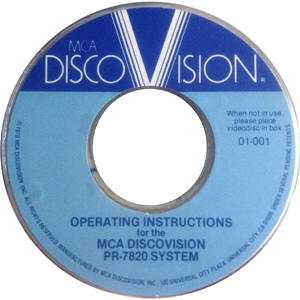 ---
Mono
Pressing Location
DiscoVision Carson
Label Color
Blue
Year Issued
1979
Side
Frames
Running Time
1
31,350
17min 25sec
Dead Side
Various
Ratings
Video Transfer
Audio Transfer
Replication
Packaging
Generic
Pressing Notes
This title was used as an intorduction to the "General Motors Video Center". It includes a rudimentary overview of the basic operation of the PR-7820 Player. It includes basic instructions in nearly all the player functions. The remote control displayed in the program has a huge overlay which covers about half the buttons, preventing their use. Most are not important, but buttons like search, frame display and Audio 1 & 2 are inaccessible.

The demonstration screens on being used during this program are all from the General Motors catalog. Also included are several very basic troubleshooting procedures for common "moron" problems like Is the unit plugged into the wall? It even includes instructions for dealing with discs which experience laserlock.

This disc is coded only with MCA code and not Philips code which playback and testing of the features outlined in the program is only possible on the PR-7820. Standard "start-to-finish" playback can be achieved on some other players.
---
MCA DiscoVision Home Page
---
Updated: November 24, 2016
Copyright ©2016 Blam Entertainment Group