© 1974 WGBH Educational Foundation, All rights reserved.
Catalog Number
31-012
Format
Standard Play CAV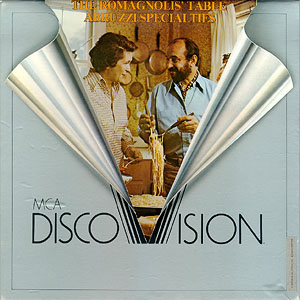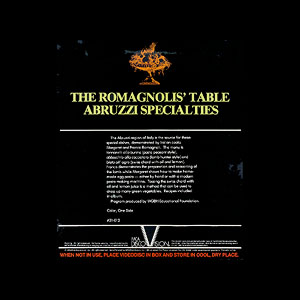 ---
Mono
Pressing Location
DiscoVision Carson
Color
Retail Price
$5.95
Year Issued
Side
Frames
Running Time
1
51,098
28min 23sec
Dead Side
Various
Ratings
Video Transfer
Audio Transfer
Replication
Packaging
Open-Top
Side-Open Sticker
Printed
Pressing Notes
Typical of the transfers from WGBH programming available on DiscoVision, the colors are bright and sharp. The audio is exceptionally clean with only minor background noise. As with most of the Julia Child programs, it appears this was rushed through production, with portions appearing scripted and at times Franco and Margaret seem to be "winging" it. I got a good chuckle hen Franco spends ponders the amount of salt to add to boiling water only to be told by Margaret that she had already done it.

Some copies have a mastering error at frame 39,972 which cause the player to invoke an auto stop. Pressing Play proceeds past the error. This program is also known to be the actual contents of all copies of A Roman Family Dinner.
---
Release History
Classic television like Abruzzi Specialties never seem to get a second chance. The title was never reissued on LaserDisc.
---
MCA DiscoVision Home Page
---
Updated: January 27, 2018
Copyright ©1998 Blam Entertainment Group