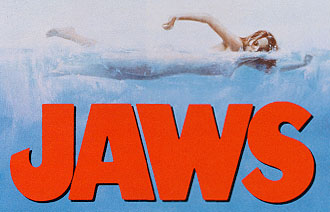 ©1975 Universal City Studios, Inc. All rights reserved.
---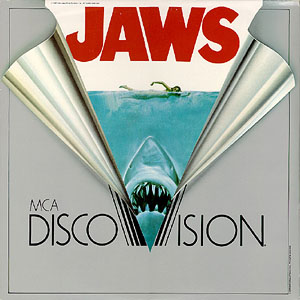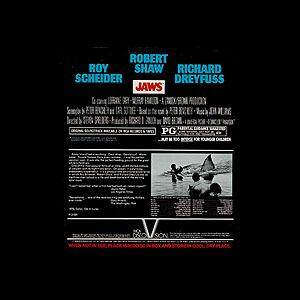 Mono
Pressing Location
DiscoVision Carson
Label Color
Blue
Retail Price
$15.95
Issued
December 11, 1978
Side
Frames
Running Time
1
36,412
25min 17sec
2
36,037
25min 02sec
3
33,684
23min 24sec
4
32,938
22min 52sec
5
40,034
27min 48sec
179,105
124min 23sec
Dead Side
Various
Ratings
Video Transfer
Audio Transfer
Replication
Packaging
Large Open-Top
Open-Top
Side-Open Sticker
Printed
Pressing Notes
On Side 1, the frame counter doesn't always commence until the Universal trademark is half over. There are known to be no fewer than 3 complete masterings of this title as the frame numbers can vary by as much as 100 frames, from copy to copy. October 1980 was the last catalog to list Jaws in the CAV format. Jaws was the first title pressed by DiscoVision for release at the Atlanta launch.
---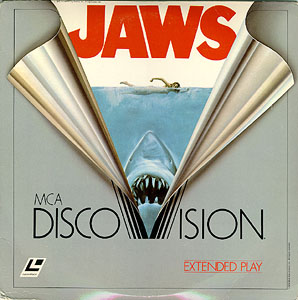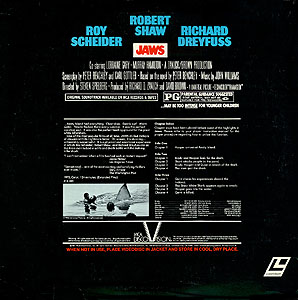 Mono
Pressing Location
DiscoVision Carson
Label Color
Red
Retail Price
$29.95
Issued
July 1981
Side
Chapters
Running Time
1
1
43 min
2
4
40 min
3
4
40 min
9
123 min
Dead Side
Green Slime
Ratings
Video Transfer
Audio Transfer
Replication
Packaging
Large Open-Top
Open-Top
Side-Open Sticker
Printed
Pressing Notes
The CLV edition of Jaws replaced the CAV version and was spanned across 3 sides. The jackets contained minor artwork changes on the back cover and was too small for 2 discs and bulged at the lower edge. The side bumpers are the typical "shrinking numbers" used by MCA Videodisc. The audio transfer remains as strong as was on the CAV disc, but the video is a step down. The image is a bit more faded and washed out. In an attempt to compensate for dark scenes, the image is too bright, making the rest of the image pale. Not as good as the CAV edition, in my opinion.

I have to give exceptionally high marks to the DiscoVision Carson pressing. The review copy has almost no speckling, dropouts, audio or video errors of any kind. Until the Letterbox pressing done in 1992, this is by far the best pressing of Jaws ever available. It's too bad the video transfer isn't better.
---
A time-compressed, 2 sided CLV version of Jaws was released in 1984 by MCA Home Video (Catalog #: 12001). A re-released was made in June 1992 by MCA/Universal Home Video in a 3 sided CLV/CAV version (Catalog #: 41086) in widescreen (2.35:1).

In November 1995 MCA/Universal released a deluxe edition of Jaws to their Signature Collection as an 8 sided THX® certified Widescreen (2.35:1) Deluxe CAV Limited Edition Box set (Catalog #: 42583). A year later in November 1996, an Extended Play version of the Signature Collection edition (Catalog #: 42629) was issued. It is the same as the CAV edition, but the movie proper has been reduced to 3 sides. It is the same THX® certified transfer and the supplemental materials are duplicated here as were used previously.

In July 2000, Universal Home Video issued Jaws on DVD in a 25th-Anniversary Collector's Edition. This new version boasts a new anamorphic video transfer and sports a new 5.1 soundtrack. Available in a Dolby Digital 5.1 edition and a separate dts 5.1 edition, the DVDs contain roughly the same materials as included with the Signature Collection LaserDisc editions. The documentary has been trimmed on both editions - more so on the DTS edition due to reduced space available to supplements as a result of the DTS track. There are a couple of new pieces of supplementary material. In November 2000, Universal issued a duplicate to the Dolby Digital edition with a full Screen transfer.

For the 30th-Anniversary, Universal has reissued Jaws once again on DVD, released in June 2005. This "new" edition is the best of all previous versions. It includes the 5.1 Dolby Digital soundtrack, in English, French and Spanish, the DTS 5.1 track from the previous release, the original Mono soundtrack in English and an improved bit-budget for the video. All supplement save 14 minutes of outtakes and deleted scenes and a British documentary from 1974 (10 minutes) have been moved to Disc 2. The original 2 hour supplement package produced for the Signature Collection LaserDisc has been restored. Some of the ancillary supplements of the 2000 release were dropped. This new edition is available in both Widescreen and Full Screen.
---
In this ever changing world of Political Correctness and the Communications Decency Act, it is interesting to see how times have changed. Take the image below of the Jaws Swimmer. The left half is from the current Signature Edition of Jaws. The right half is from the CLV Extended play edition of Jaws, released in 1981. Other than some obvious color differences, do you see anything else?

---
Return to MCA DiscoVision Catalog
MCA DiscoVision Home Page
---
Updated: August 1, 2009
Copyright ©2004 Blam Entertainment Group