Consumer Demonstration Disc
©1978 MCA DiscoVision®
Catalog Number
D-101
Format
Standard Play CAV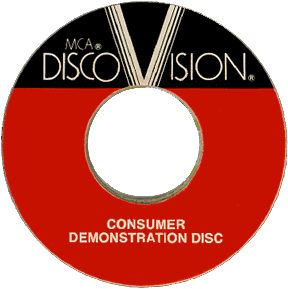 ---
Mono/Stereo
Pressing Location
DiscoVision Carson
Label Color
Red
Retail Price
N/A
Year Issued
1978
Side
Chapters
Frames
Running Time
1
8
43,358
30min 06sec
Dead Side
Various
Ratings
Video Transfer
Audio Transfer
Replication
Packaging
Generic
Pressing Notes
The earliest known demonstration disc is MCA DiscoVision's Consumer Demonstration Disc. This disc was the first to shown to eager consumers in December 1978 at the Atlanta Launch. It still stands today as a usable demo, since the disc contains only film clips. Laserdisc player model numbers and company names are never shown or mentioned. The disc was pressed on the DiscoVision label and used by Magnavox's laser dealers in many of the early markets. The only consumer demonstration disc produced by DiscoVision, the disc contains a sample of the supposedly vast programming available on DiscoVision. Chapter stops are as listed:

Elton John's Ego
Columbo
Jaws 2 was to show off the "Feature Film" catalog. They Call it Pro Football was part of the NFL series of titles and was used to demonstrate variable slow motion and reverse play. Sgt. Peppers' Lonely Hearts Club Band was to demo the first availability of Stereo sound in a video format. Sweet Charity demonstrated the availability of Musical features. Elton John's Ego was to highlight the availability of Music Video material. This video from Elton John is the first known music video on LaserDisc. Ego, at the time, was a previously unreleased song in the United States. Better Tennis in 30 Minutes was to outline the Sports-How To catalog. The segment from Le Corbusier is a still section, with various artworks displayed on each frame. Columbo is included to detail the dual channel capability of the system. This segment is bilingual with English on track 1 and Japanese on track 2.

Of course, the entire information above is speculation. Some say that it was thrown together from what ever was lying around.

All the chapter stops are offset by from the beginning of their actual segment by anywhere from 15 to 109 frames. For example, the chapter marker for the Elton John video trips 85 frames into the song. Most copies also suffer from the 20 Frame Skip.

Of all the material included on the disc, Sweet Charity, Elton John's Ego, and Columbo were never available on DiscoVision. However, Sweet Charity was announced and was later released on LaserDisc by MCA Home Video. The other programs have never appeared in any form on LaserDisc.
---
MCA DiscoVision Home Page
---
Updated: November 7, 2016
Copyright ©1998 Blam Entertainment Group