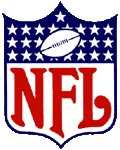 ©1973 NFL Films. All Rights Reserved
Catalog Number
86-004
Format
Standard Play CAV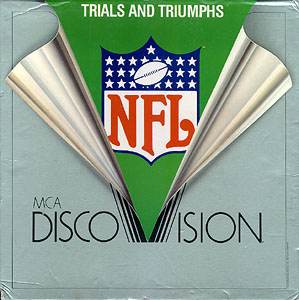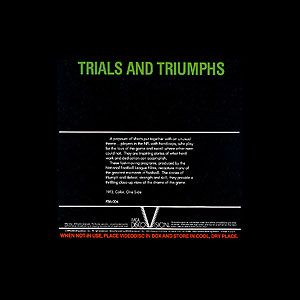 ---
Mono
Pressing Location
DiscoVision Carson
Label Color
Green
Retail Price
$5.95
Year Issued
1979
Side
Frames
Running Time
1
31,710
22min 01sec
Dead Side
Various
Ratings
Video Transfer
Audio Transfer
Replication
Packaging
Open-Top
Side-Open Sticker
Printed
Pressing Notes
Trials and Triumphs begins as most other titles in the NFL catalog, but looses its way about half way through. The program begins as an outline of players who have made it into the NFL against the odds, or some because of them. The final 10 minutes of the program center around highlights from Superbowl 7, between the Miami Dolphins and the Washington Redskins.

Mastered from 16mm source material, the age of the elements, only 6 years old at the time of the DiscoVision mastering are grainy and poorly represented. The actual video transfer itself is as good as can be expected based on the condition of the elements. The audio is unusually clean and clear for a program of this type and some of the frequency range of the score is mildly surprising. In standard fashion for NFL films, original music is included on this program. Disc replication is average, with all review copies experiencing some minor video speckling.
---
Release History
Trials and Triumphs was never reissued on LaserDisc.
---
MCA DiscoVision Home Page
---
Updated: November 15, 2016
Copyright ©1999 Blam Entertainment Group