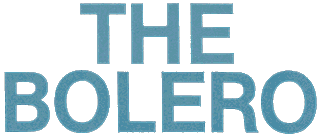 ©1972 Allan Miller. All rights reserved.
Catalog Number
73-001
Format
Standard Play CAV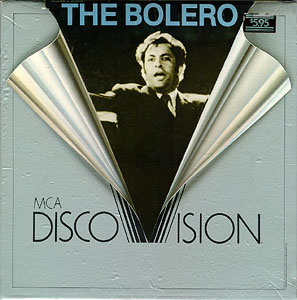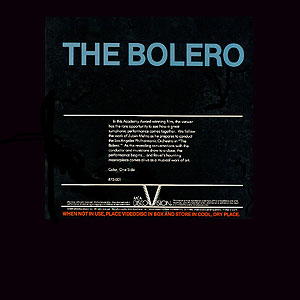 ---
Mono
Pressing Location
DiscoVision Carson
Label Color
Red
Retail Price
$5.95
Issued
December 1978
Side
Frames
Running Time
1
38,160
26min 30sec
Dead Side
Various
Ratings
Video Transfer
Audio Transfer
Replication
Packaging
Open-Top
Side-Open Sticker
Printed
Pressing Notes
Listed in DiscoVision's "The Arts" section, The Bolero was always sold at a retail of $5.95. The mono soundtrack is, at best, flat and shallow. The performance, itself is first-rate. The disc is divided into two distinct section although there are no chapter stops. The first half of the program consists of musicians, stage workers, and conductor Zubin Mehta (pictured on the disc jacket) preparing for the performance of Ravel's classic. The final half of the disc is devoted to the actual performance of The Bolero. The title was last listed in the October 1980 catalog.

This title was actually the first LaserDisc ever purchased by a consumer. Ray Kuehne dropped down the staggering $5.95 at McDonald's Magnavox on December 15, 1978 at 9:35am. He said at the time: "I've been reading about it [DiscoVision] for five years...The big problem right now is the lack of software. They said they would have around 200 titles at first, but wound up with only 50 or 60 being available right away and people are buying the discs even though they don't have one of the players. MCA's execution getting the discs into the stores has been extremely poor, but my enthusiasm remains high overall." He continues, "The imagination is the only limit to DiscoVision."
---
Release History
This performance of The Bolero was never reissued on LaserDisc.
---
MCA DiscoVision Home Page
---
Updated: November 4, 2016
Copyright ©1999 Blam Entertainment Group