©1973 WGBH Educational Foundation. All rights reserved.

Catalog Number
31-001
Format
Standard Play CAV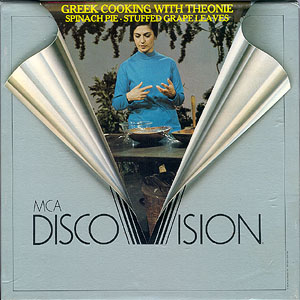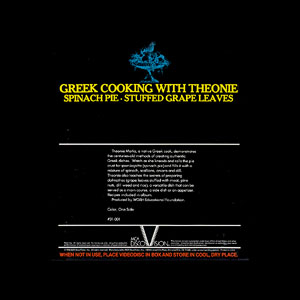 Images courtesy of Kier DeAnda
---
Mono
Pressing Location
DiscoVision Carson
Label Color
Green
Retail Price
$5.95
Year Issued
Program
Frames
Running Time
Spinach Pie
25,400
14min 06sec
Grape
Leaves
26,102
14min 30sec
Total Program
51,502
28min 36sec
Dead Side
Various
Ratings
Video Transfer
Audio Transfer
Replication
Packaging
Open-Top
Side-Open Sticker
Printed
Pressing Notes
Produced in the same fashion as the Erica Sewing programs, Theonie on Greek Island Cooking is a 15 minute program. What is presented here are two programs, with the closing credits cut off the first, and the very opening little bit chopped off of the second. This particular disc is unique. The first program has a chapter number of 0 and the "Stuffed Grape Leaves" program is encoded as chapter 1.
---
Release History
Spinach Pie / Dolmathes was never reissued on LaserDisc.
---
MCA DiscoVision Home Page
---
Updated: January 27, 2018
Copyright ©2001 Blam Entertainment Group