©1978 Universal City Studios, Inc. All rights reserved.
Catalog Number
16-007
Format
Extended Play CLV 2nd Edition
MPAA Rating
Running Time
109 minutes
---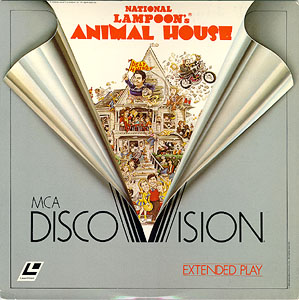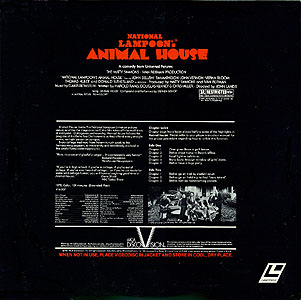 Mono
Pressing Location
DiscoVision Carson
Label Color
Red
Retail Price
$24.95
Year Issued
1981
Side
Chapters
Running Time
1
5
54½ min
2
3
54½ min
8
109 min
Ratings
Video Transfer
Audio Transfer
Replication
Packaging
Printed
Pressing Notes


This CLV version finally replaced all copies of National Lampoon's Animal House in 1981. The MCA Videodisc "shrinking numbers" bumpers are used. The "Extended Play" markings on the disc label are in the upper left corner in a white box as seen here on the left. This is interesting since all other extended play discs included the statement under the side number as seen here on the right. Further, the disc labels do not carry the LaserVision logo, but the jacket does. Some copies have a disc label as shown on the right (this image taken from Bustin' Loose), indicating that there may have been several runs of this final Extended play version. However, neither version of the label had the LaserVision logo.

The video transfer is too dark, as typical for some of the DiscoVision titles. It makes the dark scenes very dark, and the increased brightness gives the daylight scenes a washed-out appearance. The side break is horribly placed, and is in the same place in the film as the side 2-3 side break on the 4 sided CAV version and the original CLV pressing. The image has been recomposed, picking up significant information on the right side of the picture without loosing any other material. The framing of this version is the best for this title. Audio transfer is well done, but is missing all the high-ends. Replication is not great - coming so late in the IBM period, most copies are speckled to a degree. All copies viewed have been speckled. Some have synchronization errors on side 2 which cause some players to skip randomly.
---
Release History
National Lampoon's Animal House was was reissued on MCA Home Video as a 2 sided CLV disc in December 1987. (Catalog #: 16007). Universal Home Video issued a deluxe edition of National Lampoon's Animal House as part of their Signature Collection. This new edition is THX® certified and presented in the original aspect ratio of 1.85:1. The Deluxe Edition (Catalog #: 43884) was issued in October 1998.
---
MCA DiscoVision Home Page
---
Updated: November 15, 2016
Copyright ©2004 Blam Entertainment Group