©1971 WGBH Educational Foundation. All rights reserved.

Catalog Number
35-002
Format
Standard Play CAV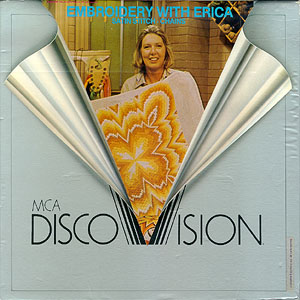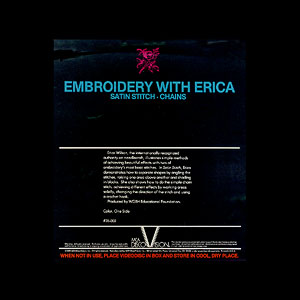 ---
Mono
Pressing Location
DiscoVision Carson
Label Color
Green
Retail Price
$5.95
Year Issued
1978
Program
Frames
Running Time
Satin Stitch
26,870
14min 55sec
Chain
28,180
15min 39sec
Total Program
55,050
30min 35sec
Dead Side
Various
Ratings
Video Transfer
Audio Transfer
Replication
Packaging
Open-Top
Side-Open Sticker
Printed
Pressing Notes
Mastered with 20 Frame Skip, this would be the longest DiscoVision side in history. However, with compensation for the frame skipping, the side runs 29min 15sec. The program appears to be two 15 minute segments which have been spliced together. I do not know where "Erica" fit into the WGBH program schedule, but it isn't common to come across 15 minute programs. The first program is missing the end credits, which would have added about 40 seconds to the program - forcing it to another side.

The audio transfer is very clear and crisp with every little sound in the room very present. From the sound of wool yarn being pulled through the cloth to the ticking grandfather clock, all are present. The video transfer is exceptionally sharp and clear with excellent color control and contrast. Given the fine details of the subject matter the video could have reduced the fabric to a blurry smear, but all the details are present. Due to the extremely long side, it is fairly common for copies to develop problems by the end of the side. The copy reviewed is very good indeed with no speckles or locking problems.
---
Release History
Satin Stitch / Chain was never reissued on LaserDisc.
---
MCA DiscoVision Home Page
---
Updated: November 7, 2016
Copyright ©1998 Blam Entertainment Group