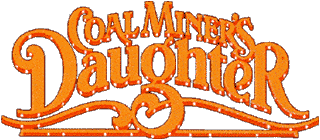 ©1980 Universal City Studios, Inc. All rights reserved.
Catalog Number
15-005
Format
Extended Play CLV
MPAA Rating
Running Time
124 minutes
---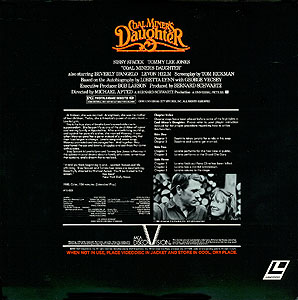 Mono
Pressing Location
DiscoVision Carson
Label Color
Red
Retail Price
$29.95
Issued
July 1981
Side
Chapters
Running Time
1
2
42 min
2
2
41 min
3
3
40 min
7
123 min
Dead Side
Glue Spray
Ratings
Video Transfer
Audio Transfer
Replication
Packaging
Printed Jacket
Pressing Notes
Coal Miner's Daughter in CLV was issued within a year of the CAV version and was spanned across 3 sides. The video transfer appears a bit softer than the CAV version and has terrible color. I know this isn't the way the film is supposed to look based on the clip from the film which is included in Loretta, from the DiscoVision music catalog. There are some brightness correction errors throughout, where the image lightens too much too quickly to compensate for a scene. This is the same type of trouble that was experienced with The Electric Horseman. The audio transfer is clean and clear but lacking in the high-ends, as usual.

Replication was very surprising, but not great. Based on some of the product which DiscoVision produced in 1981 out of the Carson facility, I would have expected the normal raft of over-abundant speckles and missing tracks. Even the Glue Spray side doesn't affect the playback. The jacket tends to be a bit on the small side, which causes the discs to bulge at the lower edge. The LaserVision logo is clearly visible on both the front and back of the jacket and Extended Play is clearly identified as well.
---
Release History
Coal Miner's Daughter was reissued by MCA/Universal Home Video in a 3 sided CLV/CAV version (Catalog #: 15005). This version was released in October 1992.
---
MCA DiscoVision Home Page
---
Updated: November 7, 2016
Copyright ©1998 Blam Entertainment Group