©1980 Avco Embassy Pictures Corp. All rights reserved
Catalog Number
12-022
Format
Extended Play CLV
MPAA Rating
Running Time
92 minutes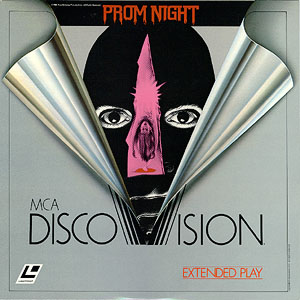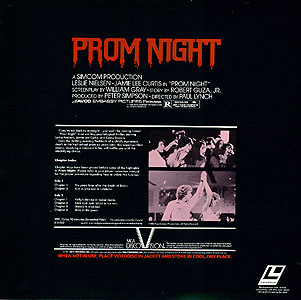 ---
Mono
Pressing Location
DiscoVision Carson
Label Color
Red
Retail Price
$29.95
Issued
October 1981
Side
Chapters
Running Time
1
2
48 min
2
4
44 min
6
92 minutes
Ratings
Video Transfer
Audio Transfer
Replication
Packaging
Printed
Pressing Notes
DiscoVision's only AVCO/Embassy feature film was this thriller starring Jamie Lee Curtis and Leslie Nielson. Prom Night is the last known disc to be mastered and pressed by the DiscoVision Carson facility, with all other discs of the period coming out of the Universal Pioneer facility in Kofu Japan. The bulk of the copies suffer from heavy crosstalk and speckling. The July 1981 DiscoVision flier listed Prom Night as a coming attraction and was included in Pioneer's initial (Winter 1982) catalog. Its last dance was seen in the Fall 1982 catalog. The disc includes the MCA Videodisc "shrinking numbers" bumpers. The opening logos are very similar to those seen on Rooster Cogburn, which seems to "pull" the blue background from the center, rather than simply opening "curtain style" to the blue background. The jacket for this title and Shogun Assassin are the only DiscoVision jackets to actually have 2 pictures on the back cover. Also interesting is the copyright line at the bottom of the jacket back which indicates ©1981 MCA VIDEODISC and the disc being manufactured by MCA VIDEODISC.

The video transfer is too bright, with too much contrast. This yields a picture which is too dark in the dark scenes and so bright that all direct lighting such as lamps bloom terribly. The audio is better, containing full range sound, including some pretty good low-end.
---
Release History
Prom Night was release on LaserDisc in October 1997 through Elite Entertainment. It was widescreen (1.85:1) transfer.
---
MCA DiscoVision Home Page
---
Updated: November 15, 2016
Copyright ©2000 Blam Entertainment Group