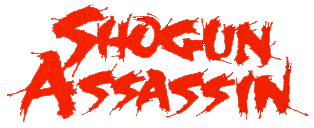 ©1980 Baby-Cart Productions. All rights reserved
Catalog Number
12-023
Format
Extended Play CLV
MPAA Rating
Running Time
85 minutes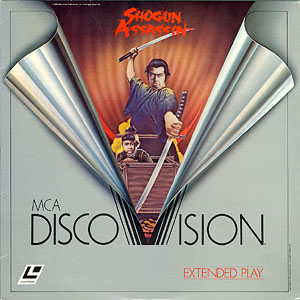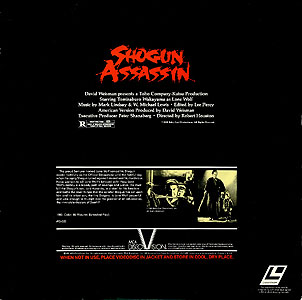 ---
Mono
Pressing Location
DiscoVision Carson
Label Color
Red
Retail Price
$24.95
Year Issued
1981
Side
Running Time
1
52½ min
2
32½ min
85 minutes
Ratings
Video Transfer
Audio Transfer
Replication
Packaging
Printed Jacket
Pressing Notes
One of the last titles made under the DiscoVision label by MCA, Shogun Assassin had real staying power in the laser catalog. Still listed in the Winter 1984 MCA Home Video Catalog, it lasted through Pioneer Video's 1982 catalog.

The video transfer is awful. The image is too dark, and often it looks as though there is nothing happening at all on the screen. Watching 85 minutes of blank screen and listening to synthesizer music is a bit grating. When there is something to see on screen, the colors are overly saturated. The audio transfer is better, with no obvious roll-off or clipping. Although the film is clearly identified in the closing credits as being recorded in "Dolby Stereo", it is presented here in Mono.

Leonard Maltin gave the film



of

described it as:
Coherent film brilliantly edited out of two different features in Japanese Sword of Vengeance series about samurai warrior who travels across countryside pushing his young son in a baby cart, stopping only to get involved in inordinate amounts of combat. Americanized version, narrated by child, is absolutely stunning visual ballet of violence and bloodletting.
I can't understand how the MPAA could have given Paul Verhoeven such a bad time with 1987's RoboCop after giving this film an R rating. I've never seen so much spurting blood anywhere.

The DiscoVision opening contains a copyright message under the logo. The disc includes the MCA Videodisc standard "shrinking numbers" bumpers. The video disc jacket claims to be an MCA DiscoVision, the disc labels show the copyright as MCA Videodisc. The replication is not the worst Carson Extended Play title, but it's not great either. There is light speckling throughout the program, which shows up quite nicely over all the dark scenes.
---
Release History
Shogun Assassin was never reissued on LaserDisc in this form. Several of the "baby cart" films were issued on LaserDisc in full widescreen during the mid 90's.
---
MCA DiscoVision Home Page Leonard Maltin review ©1996 Microsoft Corporation and/or its suppliers. All rights reserved.
---
Updated: November 5, 2016
Copyright ©2000 Blam Entertainment Group