©1979 Allarco Productions Ltd
Catalog Number
74-008
Format
Standard Play CAV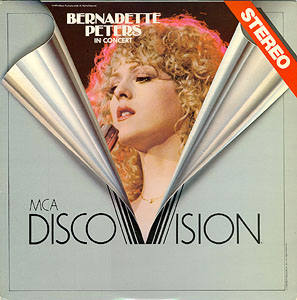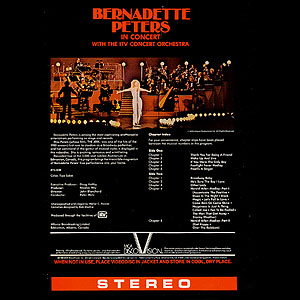 ---
Stereo
Pressing Location
DiscoVision Carson
Label Color
Green
Retail Price
$19.95
Year Issued
1980
Side
Chapters
Frames
Running Time
1
5
45,189
25min 06sec
2
5
39,783
22min 06sec
12
84,972
47min 12sec
Ratings
Video Transfer
Audio Transfer
Replication
Packaging
Printed
Pressing Notes
Bernadette Peters in Concert is one of the "Exclusive for DiscoVision" programs filmed in Edmonton, Alberta. The disc includes stereo DiscoVision music at the beginning of side 1 and the normal orange and white spiral bumpers at the side break. However, there is no music on the opening bumper for side 2. The photo on the back jacket is backwards, as is the artwork on Mel Tormé and Della Reese.

The quality of the audio and video transfer is sharp and clear. The program contains full range music which appears full of life. Bernadette Peters was actually the last of the ITV productions recorded, but the first to be released to disc. Neil Sedaka was the first production recorded in 1976 followed by Mel Tormé and Della Reese in 1978, and finally Bernadette Peters in 1979.

The show itself is awful.
---
Release History
Bernadette Peters in Concert, along with the other ITV titles, was prepared exclusively for DiscoVision under a contract with ITV and the Jubilee Auditorium in Edmonton Alberta. It was never reissued on LaserDisc.
---
MCA DiscoVision Home Page
---
Updated: November 15, 2016
Copyright ©1998 Blam Entertainment Group