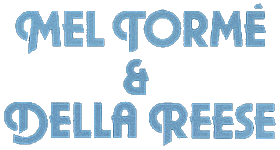 ©MCMLXXVIII Allarco Productions, ltd.
Catalog Number
74-009
Format
Standard Play CAV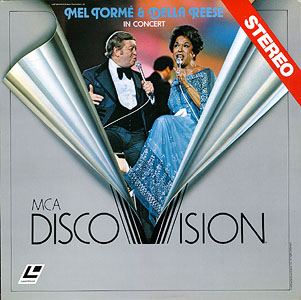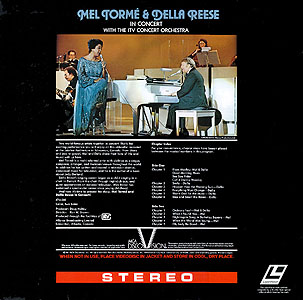 ---
Stereo
Pressing Location
Universal Pioneer Japan
Label Color
Green
Retail Price
$24.95
Year Issued
1981
Side
Chapters
Frames
Running Time
1
6
45,614
25min 20sec
2
5
40,028
22min 14sec
11
85,642
47min 34sec
Ratings
Video Transfer
Audio Transfer
Replication
Packaging
Printed
Pressing Notes
Mel Tormé and Della Reese in Concert, available for a long period of time after the death of DiscoVision, was carried in the Pioneer catalog until at least 1985. It was mastered with the MCA Videodisc "shrinking numbers" bumpers, and includes the opening DiscoVision music.

The video transfer, again mastered from video tape as all the ITV productions were, is sharp and clear. There are some color blooming problems, especially from the sequins on Della Reese's dress and Mel Tormé's pinky ring. The trouble is in the front camera and while it could have been corrected in post production, it is not a fault of the DiscoVision transfer. The audio transfer is clear and sharp with wonderful full range audio which catches every little nuance of the performance.

Has anyone noticed that the images on the front and back of the jacket are reversed?
---
Release History
Mel Tormé and Della Reese in Concert, along with the other ITV titles, was prepared exclusively for DiscoVision under a contract with ITV and the Jubilee Auditorium in Edmonton Alberta. It was never reissued on LaserDisc.
---
MCA DiscoVision Home Page
---
Updated: November 15, 2016
Copyright ©1998 Blam Entertainment Group