©MCMLXXVI Allarco Productions, ltd. All Rights Reserved
Catalog Number
74-007
Format
Standard Play CAV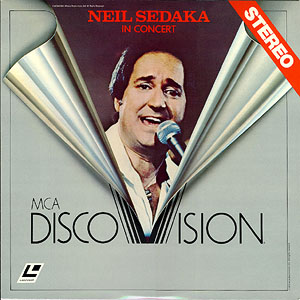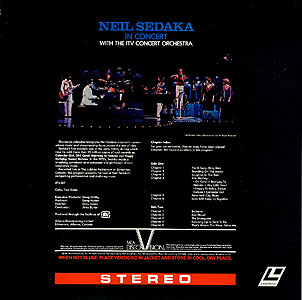 ---
Stereo
Pressing Location
DiscoVision Carson
Label Color
Green
Retail Price
$19.95
Year Issued
1981
Side
Chapters
Frames
Running Time
1
6
47,878
26min 35sec
2
5
38,564
21min 25sec
11
86,432
48min 01sec
Ratings
Video Transfer
Audio Transfer
Replication
Packaging
Printed
Pressing Notes
I purchased another copy of Neil Sedaka In Concert not long ago and sat down to watch it again. This time I decided to be a bit more objective that I had been on my initial viewing. While I don't think much of the production value or of the performance, I did give the program a bad wrap on my initial review. You know, crow really does taste a lot like chicken.

The video transfer from videotape is quite good. The image is sharp and the contrast is well under control. Since the source elements are video based, it would take some actual thought to try and screw it up during the disc mastering process. The audio is amazingly sharp and clear. The audio is full range - even by DiscoVision standards. I must have had my head in a towel when I first listened to the program. Perhaps I'll blame it on the poor analog audio reproduction of the Pioneer CLD-D703. DiscoVision transferred the program using the MCA Videodisc standard "shrinking number" bumpers.

I still think Mr. Sedaka absolutely kills some of the songs. Of greatest offense is the massacre of the Carpenters classic "Solitaire". Of course, we have to give him some professional license...he did write the thing.
---
Release History
Neil Sedaka, along with the other ITV titles, was prepared exclusively for DiscoVision under a contract with ITV and the Jubilee Auditorium in Edmonton Alberta. It was never reissued on LaserDisc.
---
MCA DiscoVision Home Page
---
Updated: November 15, 2016
Copyright ©1998 Blam Entertainment Group