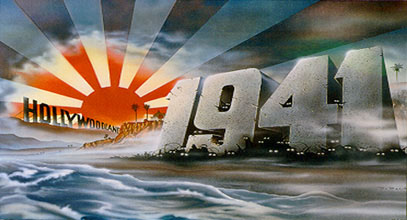 ©1979 Universal City Studios, Inc. Columbia Pictures Industries. All rights reserved.
Catalog Number
16-014
Format
Extended Play CLV
MPAA Rating
Running Time
118 minutes
---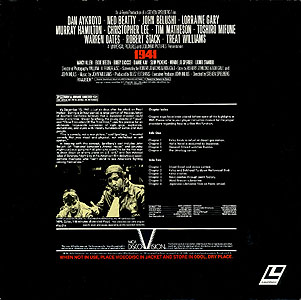 Mono
Pressing Location
Universal Pioneer Japan
Label Color
MCA Videodisc
Retail Price
$29.95
Year Issued
1982
Side
Chapters
Running Time
1
4
59 min
2
6
59½ min
10
118½ min
Ratings
Video Transfer
Audio Transfer
Replication
Packaging
Printed Jacket
Pressing Notes
The CLV edition of 1941 replaced the CAV version after the death of DiscoVision. While The Four Seasons was the last DiscoVision disc, 1941 actually was the very last DiscoVision disc, shipping from the warehouse after MCA DiscoVision had closed down. Don't be fooled by the presence of the MCA Videodisc label - the film was transferred at its full running length, including the opening DiscoVision music. The jackets were printed and they, along with the master tapes, sat on a shelf.

Waiting.

Waiting for what? Well, quite likely, for the technology to catch up to it. In 1980, CLV mastering still had not progressed to a point where more than 55 minutes could be put onto a single side. Some titles like Flash Gordon were edited to keep the running time within the allowable window. DiscoVision apparently waited to release 1941 until such time when they could master and replicate side up to 60 minutes in length, rather than issue the film across 3 CLV sides. When the Carson plant shut down in 1981, Pioneer shipped the masters off to Kofu Japan, where the sides were mastered, discs pressed and disc labels prepared using the current MCA Videodisc artwork. "Made in Japan" stickers were (rather sloppily) affixed to all the existing jackets.

This CLV edition is struck from the same transfer as the 5 sided CAV version. Video and audio components are identical, including the high contrast.
---
Release History
In November 1988, MCA Home Video announced a Widescreen version of 1941 to include 30 minutes of new footage. The disc was never released.

After being out of print for nearly 12 years, 1941 was reissued as part of MCA/Universal Home Video's Signature Collection. This Deluxe CAV THX® certified version of 1941 (Catalog #: 42343), is a complete restoration with 28 minutes of footage added to the theatrical version, presented in the original theatrical aspect ratio of 2.35:1. Also restored is the original 4-Track Magnetic soundtrack used only in the 70mm release, which have been re-mixed into Dolby Surround Stereo. The disc also features an isolated score track in stereo on the Analog tracks.

MCA/Universal also issued a movie only version of 1941. Released in November 1996, this new THX® certified edition is the same restored widescreen (2.35:1) version of the film available in the Signature Collection edition. It contains no supplemental materials or the isolated score.
---
MCA DiscoVision Home Page
---
Updated: November 15, 2016
Copyright ©2003 Blam Entertainment Group