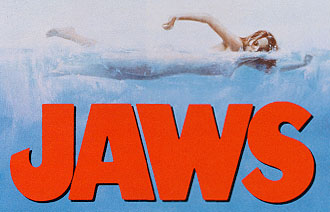 ©1975 Universal City Studios, Inc. All rights reserved.
Catalog Number
12-001
Format
Extended Play CLV
MPAA Rating
Running Time
124 minutes
---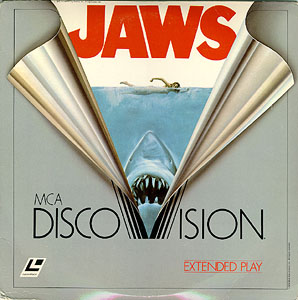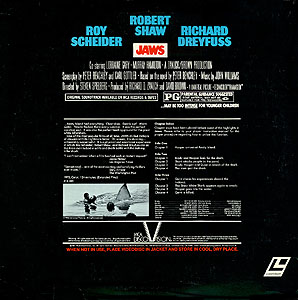 Mono
Pressing Location
DiscoVision Carson
Label Color
Red
Retail Price
$29.95
Issued
July 1981
Side
Chapters
Running Time
1
1
43 min
2
4
40 min
3
4
40 min
9
123 min
Dead Side
Glue Spray
Ratings
Video Transfer
Audio Transfer
Replication
Packaging
Printed Jacket
Pressing Notes
The CLV edition of Jaws replaced the CAV version and was spanned across 3 sides. The jackets contained minor artwork changes on the back cover and was too small for 2 discs and bulged at the lower edge. The side bumpers are the typical "shrinking numbers" used by MCA Videodisc. The audio transfer remains as strong as was on the CAV disc, but the video is a step down. The image is a bit more faded and washed out. In an attempt to compensate for dark scenes, the image is too bright, making the rest of the image pale. Not as good as the CAV edition, in my opinion.

I have to give exceptionally high marks to the DiscoVision Carson pressing. The review copy has almost no speckling, dropouts, audio or video errors of any kind. Until the Letterbox pressing done in 1992, this is by far the best pressing of Jaws ever available. It's too bad the video transfer isn't better.
---
Release History
A time-compressed, 2 sided CLV version of Jaws was released in 1984 by MCA Home Video (Catalog #: 12001). A widescreen (2.35:1) version was issued in June 1992 by MCA/Universal Home Video as a 3 sided CLV/CAV version (Catalog #: 41086) which included the notation "Home Video Version" as some music had been changed.

In November 1995 MCA/Universal released a deluxe edition of Jaws to their Signature Collection as an 8 sided THX® certified Widescreen (2.35:1) Deluxe CAV Limited Edition Box set (Catalog #: 42583). A year later in November 1996, an Extended Play version of the Signature Collection edition (Catalog #: 42629) was issued. It is the same as the CAV edition, but the movie proper has been reduced to 3 sides. It is the same THX® certified transfer and on-disc supplemental materials are duplicated here as were used previously. The CD Soundtrack and paperback book in the CAV box set was excluded from this CLV edition.
---
MCA DiscoVision Home Page
---
Updated: November 15, 2016
Copyright ©2004 Blam Entertainment Group