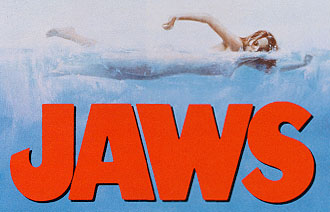 ©1975 Universal City Studios, Inc. All rights reserved.


Limited Edition
Catalog Number
42583
Format
Standard Play CAV
Running Time
124 minutes

Side
Chapters
Frames
Running Time
1
7
41,194
28min 36sec
2
3
42,361
29min 25sec
3
5
42,169
29min 17sec
4
4
33,856
23min 30sec
5 +
3 (8)
20,151 (30,281)
13min 59sec
22
179,731
124min 48sec
Supplemental Material
5
5
10,130
7min 02sec *
6
5
53min 32sec
7
9
55min 25sec
8
7
28min 32sec
26
144min 31sec *
* Contains untimed still elements. Due to variations in transferring film and video to LaserDisc, exact run time may vary.
+ Because of the still elements of side 5, the side is listed twice. The number within () represents the complete information for the side, including supplements.

| | |
| --- | --- |
| Number of copies pressed | 10,000 |
| Pressing Location | Pioneer Video Manufacturing |
| Letterbox Aspect Ratio | |
| Retail Price | $149.95 |
| Issued | November 28, 1995 |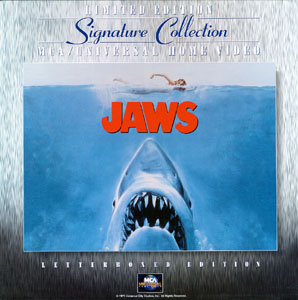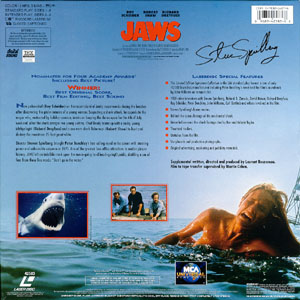 The set includes the following supplemental materials:
This Limited Edition Signature Collection in the CAV standard play format is one of only 10,000 laserdiscs manufactured including Peter Benchley's novel and the film's soundtrack by John Williams on compact disc.
1995 video interviews with Steven Spielberg, Richard D. Zanuck, David Brown, Richard Dreyfuss, Roy Scheider, Peter Benchley, John Williams, Carl Gottlieb and others involved in the film.
Steven Spielberg's home movies.
Behind-the-scenes footage of the mechanical shark.
Never-before-seen live shark footage shot by Ron and Valerie Taylor.
Theatrical trailers.
Outtakes from the film.
Storyboards and production photographs.
Original advertising, marketing and publicity materials.
Synopsis:
In 1975, director Steven Spielberg brought Peter Benchley's best-selling novel to the screen with stunning power and unbearable suspense. One of the greatest box-office attractions in motion picture history, JAWS left an indelible mark upon the movie-going (and beach-going!) public, distilling a sea of fear from these five words: "Don't go in the water."

Once the terror begins, Roy Scheider, Richard Dreyfuss and Robert Shaw must join forces on a desperate quest to destroy a killer embodying nearly three tons of instant white death.
Last Updated: December 20, 1996
©1996 Blam Entertainment Group