©1960 Shamley Productions, Inc. All rights reserved.
Catalog Number
11-003
Format
Extended Play CLV
Running Time
108 minutes
---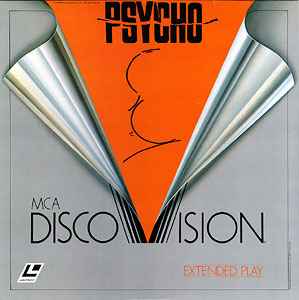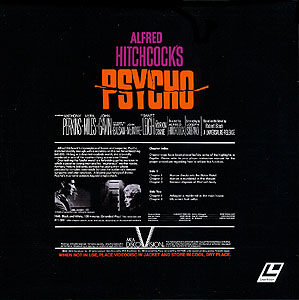 Mono
Pressing Location
Universal Pioneer Japan
Label Color
Red
Retail Price
$24.95
Issued
October 1981
Side
Chapters
Running Time
1
3
54½ min
2
2
54 min
5
108½ min
Ratings
Video Transfer
Audio Transfer
Replication
Packaging
Printed Jacket
Pressing Notes
The artwork of the CLV version of Psycho is a negative version of the CAV artwork. Essentially transferred from the same print as the CAV, including the horrific splices and audio mis-timing. In a departure from the rest of DiscoVision's Black & White transfers, the side bumpers are in full color. This is the only black & white film to make the Extended Play transition from Standard Play in the DiscoVision catalog.

The video transfer is first rate. It would have rated a full 5 stars, except for some of the dark scenes where nothing can be seen. The black & white image is sharp, well defined and is very well represented on this Extended Play edition. The audio is very well done, but is given to very loud spots at points during the film, which tends to blare out everything else in the room. (not necessarily a bad thing). The image is affected in a minor way by the inclusion of the colorburst in the the NTSC signal. Universal Pioneer's replication is nearly flawless.
---
Release History
MCA/Universal Home Video released a new version of Psycho in August 1988 (Catalog #: 11003). In May 1998 Universal Studios Home Video released a deluxe edition of Psycho as part of their Signature Collection. This THX® certified Widescreen (1.85:1) Deluxe Edition (Catalog #: 43105) is spread across 4 extended play sides and 1 standard play side, and includes a new documentary and isolated Bernard Hermann score.
---
MCA DiscoVision Home Page
---
Updated: November 5, 2016
Copyright ©2004 Blam Entertainment Group