©MCMLXXVIII Paramount Pictures Corporation. All rights reserved.
Catalog Number
P10-527
Format
Extended Play CLV
MPAA Rating
Running Time
102 minutes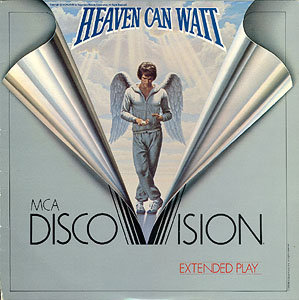 ---
Mono
Pressing Location
DiscoVision Carson
Label Color
Red
Retail Price
$24.95
Issued
January 1981
Side
Running Time
1
51 min
2
49 min
100min
Ratings
Video Transfer
Audio Transfer
Replication
Packaging
Printed
Pressing Notes
With the release of Heaven Can Wait in January 1981, MCA DiscoVision began to release in the Extended Play format only. Heaven Can Wait was never listed in any of the DiscoVision catalogs. It was however, mentioned as a coming attraction in the October 1980 catalog. This was the last Paramount title to be released by DiscoVision before Paramount started producing LaserDiscs on their own. It's interesting to note that the picture used on the back of the jacket doesn't seem to be in the film anywhere. The normal spiral bumpers are employed, but side 2 does not include the standard music.

The video transfer is typical of the DiscoVision period of 1980. The image appears washed out in some spots, too dark in others, overly bright and just plain off. The 2.35:1 aspect ratio is transferred partially un-squeezed to the disc, but giving it a slightly stretched out look, but not as bad as The Great Waldo Pepper. The audio transfer is also lack-luster in its performance, sounding rather flat and unexceptional. Disc replication is par for DiscoVision Carson. While it doesn't appear there are any missing tracks, which was very common in the Extended Play product, these are some of the worst discs produced. All copies reviewed have been speckled to some degree, but not so bad as to make the disc unwatchable.
---
Release History
Heaven Can Wait was reissued on LaserDisc by Paramount Home Video (Catalog #: LV1109).
---
MCA DiscoVision Home Page
---
Updated: November 15, 2016
Copyright ©2000 Blam Entertainment Group