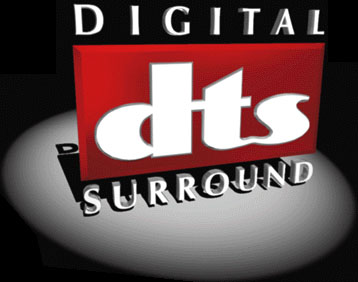 September 4, 1996
Posted: September 11, 1996






DTS ANNOUNCES WORLD'S FIRST DTS-ENCODED LASERDISCS IMAGE ENTERTAINMENT WILL BEGIN WITH UNIVERSAL TITLES
Westlake Village, CA - DTS Technology today announced that Image Entertainment and MCA/Universal Home Video intend to produce several laserdisc titles incorporating the original state-of-the-art DTS "Digital Surround" soundtracks.
Image Entertainment, the largest licensee and distributor of laserdiscs in the United States, will become the exclusive manufacturer and distributor of DTS-encoded laserdiscs selected from Universal's catalog of blockbuster releases for three years.
The first titles scheduled for shipment will be Jurassic Park and The Shadow, followed by Apollo 13 and Casper. Each laserdisc will be encoded with the original 6-channel digital soundtrack that was developed by Digital Theater Systems (DTS) for the huge network of DTS-equipped theaters worldwide, but at an even higher data rate than the motion picture soundtrack. And all DTS-encoded versions will play on any laserdisc player with a digital output connected to a DTS 5.1 decoder.
"The Laserdisc is the ultimate collectible for home theater enjoyment," remarked David DelGrosso, DTS Technology's Director of Marketing. "Since our first public demonstration, laserdisc enthusiasts have been eager to acquire these releases with their technologically advanced audio soundtracks."
Both IMAGE and DTS are forecasting great potential for this market since there are currently over 200 movies produced with DTS 6-channel digital soundtracks and approximately 100 additional theatrical releases coming each year.
For further information, contact John Nicoll (Nicoll Public Relations) @ 617 784 4400.


All materials are protected by copyright and may be used only for personal and noncommercial uses. Public display or copying for sale or public distribution of any materials is strictly prohibited.
TM and Copyright ©1996 Universal Studios Home Video, Inc.
---
This site maintained by Blam Entertainment Group

Copyright ©1996 Blam Entertainment Group