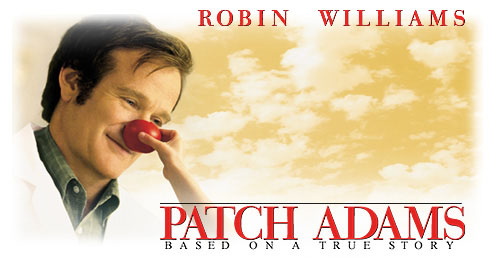 ©1998 Universal Studios, Inc. All rights reserved.
Catalog Number
44421
Format
Extended Play CLV
Table of Contents
Running Time
116 minutes

Side
Chapters
Frames
Running Time
1
8
58min 43sec
2
10
57min 05sec
18
115min 48sec
Supplemental Material
3
8
40,159
24min 52sec
Due to variations in transferring film and video to LaserDisc, exact run time may vary.

| | |
| --- | --- |
| Pressing Location | Pioneer Video Manufacturing |
| Aspect Ratio | |
| Retail Price | $34.98 |
| Issued | July 27, 1999 |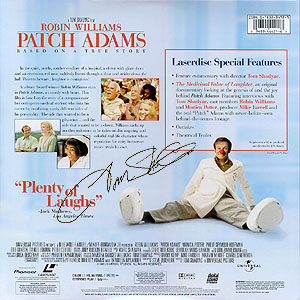 The set includes the following supplemental materials:
Features 5.0 channel Dolby Digital (AC-3) soundtrack
Presented in the 2.35:1 aspect ratio of the original 35 millimeter anamorphic theatrical prints
Running audio commentary by director Tom Shadyac
The Medical Value of Laughter, an original documentary featuring interviews with director Tom Shadyac, cast members Robin Williams and Monica Potter, producer Mike Farrell and the real Dr. "Patch" Adams.
Outtakes
Theatrical Trailer
Special bonus: Marc Shaiman's musical score on analog tracks during the documentary
*
CX Encoding on supplemental material only

Synopsis:
Patch Adams (Robin Williams) is studying to be a doctor at the Medical College of Virginia. He begins to entertain hospital patients at bedside in defiance of the strict rule prohibiting such contact before the third year. His outrageous antics put him in conflict with the stuffy medical establishment, particularly the dean of the med school. Although Patch has high grades, the dean declares him not cut out to be a doctor and accuses him of practicing medicine without a license. Patch's graduation and future as a doctor are at risk because of his firm belief that laughter is contagious.
Last Updated: July 24, 1999
©1999 Blam Entertainment Group