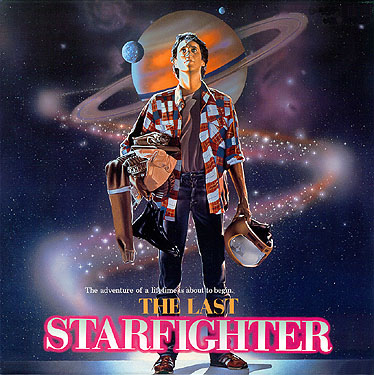 ©1984 Lorimar/Universal, A Joint Venture. All rights reserved.
Catalog Number
44420
Format
Extended Play CLV
Table of Contents
Running Time
101 minutes

Side
Chapters
Running Time
1
13
58min 39sec
2
7
9
42min 11sec
46min 25sec
19
21
100min 49sec
105min 04sec
Supplemental Material
3
5
32min 01sec
Side 2 includes Teaser and Theatrical tailers. The first number listed is for the feature film only. The 2nd number is for the complete program.

| | |
| --- | --- |
| Pressing Location | Pioneer Video Manufacturing |
| Aspect Ratio | |
| Retail Price | $34.98 |
| Issued | June 29, 1999 |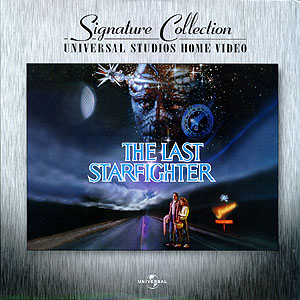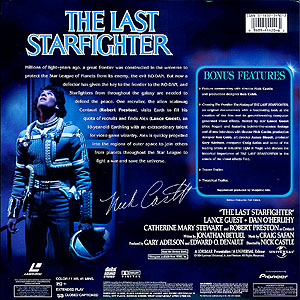 The set includes the following supplemental materials:
Features 5.1 channel Dolby Digital (AC-3) soundtrack
Presented in the 2.35:1 aspect ratio of the original 35 millimeter anamorphic theatrical prints
Running audio commentary by director Nick Castle and production designer Ron Cobb
Crossing the Frontier: The Making of The Last Starfighter, an original documentary with a fascinating look at the creation of the film and its groundbreaking computer-generated visual effects. Hosted by Lance Guest and featuring behind-the-scenes footage and all new interviews with director Nick Castle, production designer Ron Cobb, art director James Bissell, producer Gary Adelson, composer Craig Safan and some of the computer artists who blazed the trail for a new era of effects technology.
Theatrical Trailer
*
CX Encoding on supplemental material only

Synopsis:
Millions of light-years ago, a great frontier was constructed in the universe to protect the Star League of Planets from its enemy, the evil KO-DAN. But now a defector has given the key to the frontier to the KO-DAN, and Starfighters from throughout the galaxy are needed to defend the peace. One recruiter, the alien scalawag Centauri (Robert Preston), visits Earth to fill his quota of recruits and finds Alex (Lance Guest), an 18-year-old Earthling with an extraordinary talent for video game wizardry. Alex is quickly propelled into the regions of outer space to join others from planets throughout the Star League to fight a war to save the universe.
Last Updated: June 28, 1999
©1999 Blam Entertainment Group