©1999 Universal Pictures, Inc. All rights reserved.
Catalog Number
44243
Format
Extended Play CLV
Table of Contents
Running Time
124 minutes

Side
Chapters
Running Time
1
7
47min 24sec
2
6
41min 03 ec
3
6 (7)
35min 10sec
19
123min 37sec
Supplemental Material
3
1
24min 20sec
4
4
57min 38sec
81min 58sec
Because of the supplemental elements of side 3, the side is listed twice. Once for the film elements and again for the supplemental materials

| | |
| --- | --- |
| Pressing Location | Pioneer Video Manufacturing |
| Aspect Ratio | |
| Retail Price | $34.98 |
| Issued | September 21, 1999 |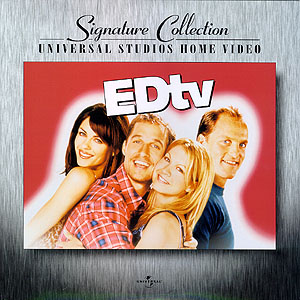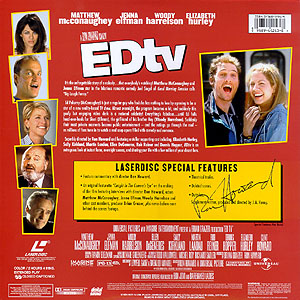 The set includes the following supplemental materials:
Features 5.1 channel Dolby Digital (AC-3) soundtrack
Presented in the 1.85:1 aspect ratio of the original 35 millimeter theatrical prints
Audio commentary with director Ron Howard
Caught in the Camera's Eye, an original featurette on the making of the film including interviews with director Ron Howard, producer Brian Grazer, actors Matthew McConaughey, Jenna Elfman and Woody Harrelson and other cast members.
Deleted Scenes
Outtakes
Theatrical Trailer
*
CX Encoding on side 4 only

Synopsis:
The NorthWest Broadcasting Company's flagship cable channel, True TV, has suffered a catastrophic slide in their ratings in the two years they have been on the air. So, in a desperate attempt to boost the ratings, they cultivate a new concept in programming - putting one ordinary person's life on cable 24 hours-a-day. After numerous auditions, they pluck a boyish, goofy video store clerk named Ed to be the star of the show. Within a week, Ed has become the blockbuster hit of the TV season. At first, Ed welcomes the constant attention as he is shadowed by a three man video crew. However, celebrity has a price, which Ed learns when the show begins to strain his personal relationships. Now Ed must find a way to end his ordeal, cancel EDtv, and return to the normal life he lead before fame made him a daytime, nighttime and primetime superstar.
Last Updated: September 28, 1999
©1999 Blam Entertainment Group