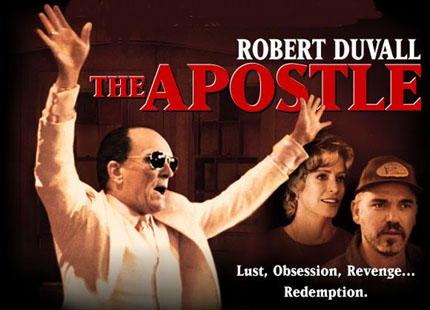 ©1997 October Films, Inc. All rights reserved.
Catalog Number
43774
Format
Extended Play CLV
Table of Contents
Running Time
134 minutes

Side
Chapters
Frames
Running Time
1
15
45min 47sec
2
14
52min 09sec
3
6
36min 31sec
35
134min 27sec
Supplemental Material
4
13
44,964
28min 10sec *
*Due to variations in transferring film and video to LaserDisc, exact run time may vary.

| | |
| --- | --- |
| Pressing Location | Pioneer Video Manufacturing |
| Aspect Ratio | |
| Retail Price | $39.98 |
| Issued | August 18, 1998 |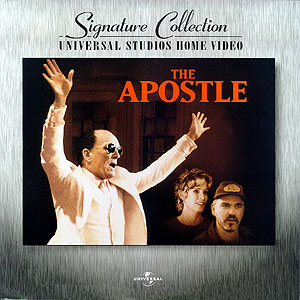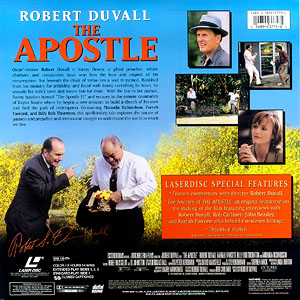 The set includes the following supplemental materials:
Presented in the 1.85:1 aspect ratio of the original 35 millimeter theatrical prints
Running audio commentary by director Robert Duvall.
Journey of The Apostle, an original featurette on the making of the film featuring interviews with Robert Duvall, Rob Carliner, John Beasley and Farrah Fawcett, plus behind-the-scenes footage.
Theatrical Trailer
*
CX Encoding on supplemental material only.

Synopsis:
He was touched by the power and filled with the spirit. A man of faith. A man of the flesh. A man plagued by the darker side of human desire, and rage.

In his Academy Award®-nominated performance, Robert Duvall is Sonny, a gifted Southern preacher loved by his community. When Sonny loses control and commits a crime of passion, he is forced to run from the law. Hiding out in the small town of Bayou Boutte, Sonny adopts a new identity and sets out on a new mission - to find the road to redemption. Co-Starring Billy Bob Thornton, Farrah Fawcett and Miranda Richardson.
Last Updated: August 19, 1998
©1998 Blam Entertainment Group