©1980 Universal City Studios, Inc. All rights reserved.
Catalog Number
43475
Format
Extended Play CLV
Table of Contents
Running Time
148 minutes

Side
Chapters
Running Time
1
17
55min 57sec
2
17
46min 19sec
3
17
51min 18sec
49
153min 34sec
Supplemental Material
4
15
56min 20sec

| | |
| --- | --- |
| Pressing Location | Pioneer Video Manufacturing |
| Aspect Ratio | |
| Retail Price | $39.98 |
| Issued | September 8, 1998 |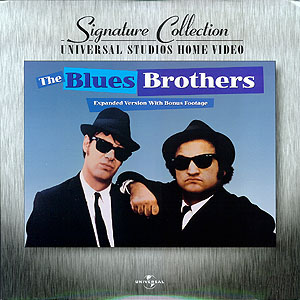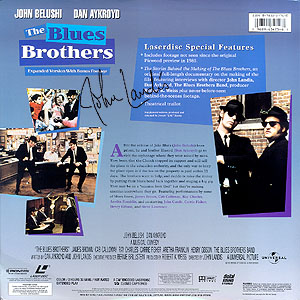 The set includes the following supplemental materials:
Features 5.1 channel Dolby Digital (AC-3) soundtrack
Presented in the 1.85:1 aspect ratio of the original 35 millimeter theatrical prints
Includes 12 minutes of restored footage not included in the original theatrical release.
The Stories Behind the Making of The Blues Brothers, an original full length documentary on the making of the film featuring interviews with director John Landis, Dan Aykroyd, The Blues Brothers Band, producer Robert K. Weiss plus never-before-seen behind-the-scenes footage.
Theatrical Trailer
*
CX Encoding on supplemental material only.

Synopsis:
The Blues Brothers is a unique and outrageously funny musical comedy with spectacular action. It is the story of Jake and Elwood Blues (John Belushi & Dan Aykroyd), two hoodlum brothers searching for redemption, who set out to locate and re-enlist the members of their defunct rhythm and blues band in order to raise some honest money. The band members have straight jobs now and are reluctant to leave, but Jake and Elwood convince them to come along. The brothers, however, just can't seem to follow the straight and narrow as their troubles mount and the hijinks increase.
Last Updated: October 18, 1998
©1998 Blam Entertainment Group