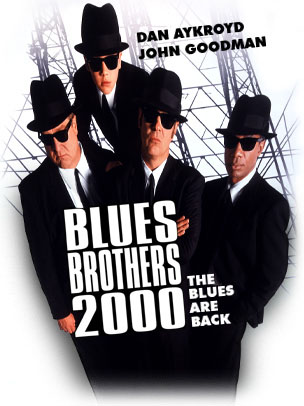 ©1998 Universal City Studios, Inc. All rights reserved.
Catalog Number
43380
Format
Extended Play CLV
Table of Contents
Running Time
124 minutes

Side
Chapters
Frames
Running Time
1
17
48min 52sec
2
16
50min 16sec
3
8
35,995
25min 01sec
41
124min 09sec
Supplemental Material
4
12
44,363
26min 09sec *
* Contains untimed still elements. Due to variations in transferring film and video to LaserDisc, exact run time may vary.

| | |
| --- | --- |
| Pressing Location | Pioneer Video Manufacturing |
| Aspect Ratio | |
| Retail Price | $39.98 |
| Issued | August 4, 1998 |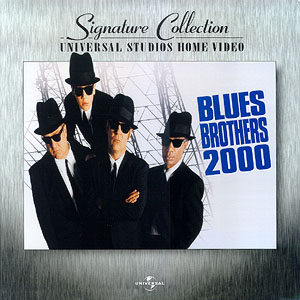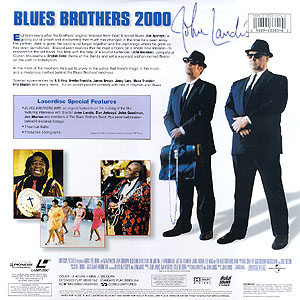 The set includes the following supplemental materials:
Features 5.1 channel Dolby Digital (AC-3) soundtrack
Presented in the 1.85:1 aspect ratio of the original 35 millimeter theatrical prints
Blues Brothers 2000, an original featurette on the making of the film featuring interviews with director John Landis, Dan Aykroyd, John Goodman, Joe Morton and members of The Blues Brothers Band plus never-before-seen behind-the-scenes footage.
Production Photographs
Theatrical Trailer
*
CX Encoding on supplemental material only.

Synopsis:
Eighteen years after the Brothers' original "mission from God," Elwood Blues (Dan Aykroyd) is out of prison and discovering that much has changed in the time he's been away. His partner, Jake is gone, his band is no longer together and the orphanage where he grew up has been demolished. Elwood soon realizes that he must embark on a whole new mission--to reassemble the old band, this time with the help of a soulful bartender (John Goodman), compete at Queen Moussette's (Erykah Badu) Battle of the Bands and set a wayward orphan named Buster on the path to redemption.

In the midst of the mayhem, he's got to prove to the police that there's magic in the music...and a mysterious method behind the Blues Brothers' madness. Featuring appearances by Aretha Franklin, B.B. King, James Brown, Eric Clapton, Blues Traveler, Travis Tritt and more!
Last Updated: August 6, 1998
©1998 Blam Entertainment Group