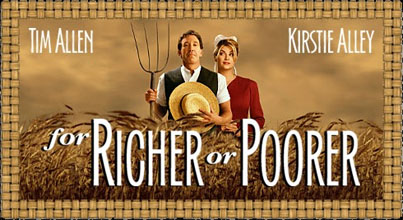 ©1997 Universal City Studios, Inc. All rights reserved.
Catalog Number
43376
Format
Extended Play CLV
Table of Contents
Running Time
116 minutes

Side
Chapters
Frames
Running Time
1
17
59min 55sec
2
16
56min 11sec
33
116min 06sec
Supplemental Material
3
1
31,943
18min 26sec
4
8
32,940
22min 42sec *
9
64,883
41min 08sec
* Contains untimed still elements. Due to variations in transferring film and video to LaserDisc, exact run time may vary.

| | |
| --- | --- |
| Pressing Location | Pioneer Video Manufacturing |
| Aspect Ratio | |
| Retail Price | $34.98 |
| Issued | May 12, 1998 |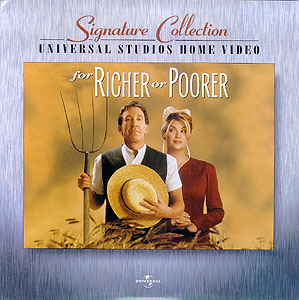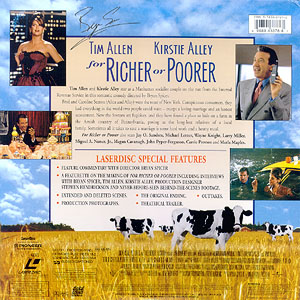 The set includes the following supplemental materials:
Features 5.1 channel Dolby Digital (AC-3) soundtrack
Presented in the 2.35:1 aspect ratio of the original 35 millimeter anamorphic theatrical prints
Running audio commentary by director Bryan Spicer.
A featurette on the Making of For Richer or Poorer, including interviews with the director, Tim Allen, Kirstie Alley, and production designer Stephen Hendrickson
Behind-the-scenes footage
Extended & deleted scenes and outtakes
The Original Ending
Production Stills
Theatrical Trailer
*
CX Encoding on supplemental material only.
Synopsis:
Tim Allen and Kirstie Alley star as a Manhattan socialite couple on the run from the Internal Revenue Service in this romantic comedy directed by Bryan Spicer. Brad and Caroline Sexton were the toast of New York. Conspicuous consumers, they had everything in the world two people could want--except a loving marriage and an honest accountant. Now the Sextons are fugitives, and they have found a place to hide on a farm in the Amish country of Pennsylvania, posing as the long-lost relatives of a local family. Sometimes all it takes to save a marriage is some hard work and a hearty meal.
Last Updated: May 21, 1998
©1998 Blam Entertainment Group