©1997 Universal City Studios, Inc. All rights reserved.
Catalog Number
43309
Format
Extended Play CLV
Table of Contents
Running Time
87 minutes

Side
Chapters
Frames
Running Time
1
10
31min 12sec
2
16
56min 36sec
26
87min 48sec
Supplemental Material
3
5
39,031
23min 59sec
* Contains untimed still elements. Due to variations in transferring film and video to LaserDisc, exact run time may vary.

| | |
| --- | --- |
| Pressing Location | Pioneer Video Manufacturing |
| Letterbox Aspect Ratio | |
| Retail Price | $44.98 |
| Issued | September 30, 1997 |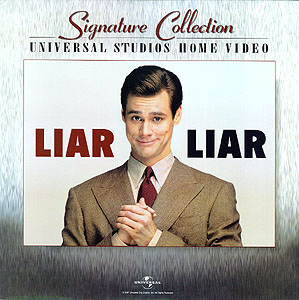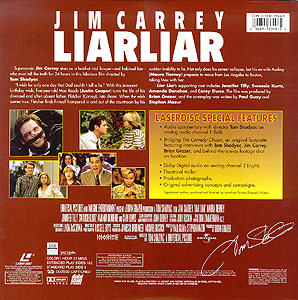 The set includes the following supplemental materials:
Features 5.1 channel Dolby Digital (AC-3) soundtrack (feature film only)
Presented in the 1.85:1 aspect ratio of the original 35 millimeter theatrical prints
Running audio commentary by director Tom Shadyac on the left analog channel.
Gatefold jacket with informative essay
Bridging the Comedy Chasm, an original featurette featuring interviews with Tom Shadyac, Jim Carrey, Brian Grazer, and behind-the-scenes footage shot on location.
Theatrical Trailer.
Production photographs.
Original advertising concepts and campaigns.
*
CX Encoding on supplemental material only.
Synopsis:
Supercomic Jim Carrey stars as a hotshot trial lawyer - and habitual liar - who must tell the truth for 24 hours in this hilarious film directed by Tom Shadyac.

"I wish for only one day that Dad couldn't tell a lie." With this innocent birthday wish, five-year-old Max Reede (Justin Cooper) turns the life of his divorced and often absent father, Fletcher (Carrey), into chaos. When the wish comes true, Fletcher finds himself hampered in and out of the courtroom by his sudden inability to lie. Not only does his career collapse, but his ex-wife Audrey (Maura Tierney) prepares to move from Los Angeles to Boston, taking Max with her.

Liar Liar's supporting cast includes Jennifer Tilly, Swoosie Kurtz, Amanda Donohoe and Cary Elwes.
Last Updated: September 23, 1997
©1997 Blam Entertainment Group