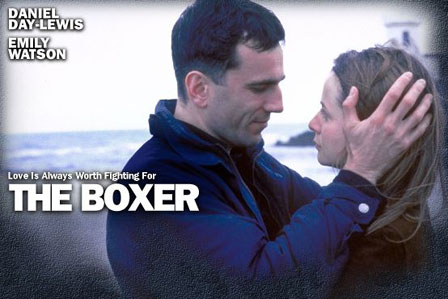 ©1998 Universal City Studios, Inc. All rights reserved.
Catalog Number
43298
Format
Extended Play CLV
Table of Contents
Running Time
114 minutes

Side
Chapters
Running Time
1
17
57min 22sec
2
16
56min 48sec
33
114min 10sec
Supplemental Material
3
10
42min 17sec

| | |
| --- | --- |
| Pressing Location | Pioneer Video Manufacturing |
| Aspect Ratio | |
| Retail Price | $39.98 |
| Issued | July 7, 1998 |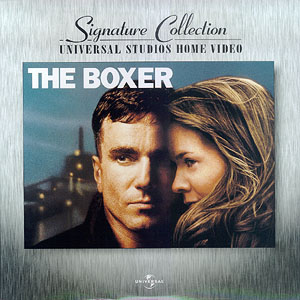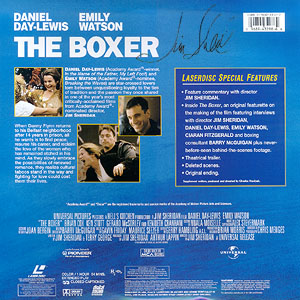 The set includes the following supplemental materials:
Features 5.1 channel Dolby Digital (AC-3) soundtrack
Presented in the 1.85:1 aspect ratio of the original 35 millimeter theatrical prints
Running audio commentary by director Jim Sheridan.
Fighting for Peace: Inside the Boxer, an original featurette on the making of the film featuring interviews with director Jim Sheridan, Daniel Day-Lewis, Emily Watson, Ciaran Fitzgerald and boxing consultant Barry McGuigan plus never-before-seen behind-the-scene footage.
Deleted scenes
Original Ending
Production Stills
Theatrical Trailer
*
CX Encoding on supplemental material only.
Synopsis:
After 14 years in prison, former IRA member Danny Flynn (Daniel Day-Lewis) is returning to the neighborhood where his teenage sweetheart, Maggie (Emily Watson) has managed to survive by marrying, and then raising the son of Danny's best friend. Ill at ease in the outside world, Danny is imploding from 14 years of seclusion. Cultural taboos and unwritten rules militate against Maggie and Danny. Friends, family and IRA members watch their every move, observing their forbidden glances. In the boxing ring, Danny is home. There the rules provide a structure that the chaotic streets of Belfast cannot, and therefore offer him a way to communicate with dignity and, in the process, rebuild his life.
Last Updated: July 7, 1998
©1998 Blam Entertainment Group