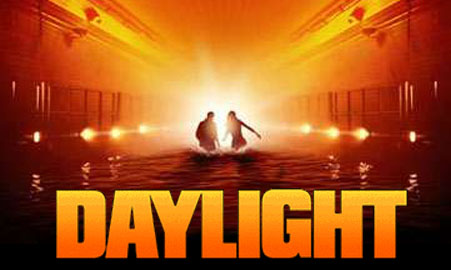 ©1996 Universal City Studios, Inc. All rights reserved.
Catalog Number
43206
Format
Extended Play CLV
Table of Contents
Running Time
115 minutes

Side
Chapters
Frames
Running Time
1
22
56min 55sec
2
22
58min 54sec
44
115min 59sec
Supplemental Material
3
6
40,019
23min 23sec
4
9
44,323
28min 42sec
15
84,342
52min 05sec
* Contains untimed still elements. Due to variations in transferring film and video to LaserDisc, exact run time may vary.

| | |
| --- | --- |
| Pressing Location | Pioneer Video Manufacturing |
| Letterbox Aspect Ratio | |
| Retail Price | $99.98 |
| Issued | July 1, 1997 |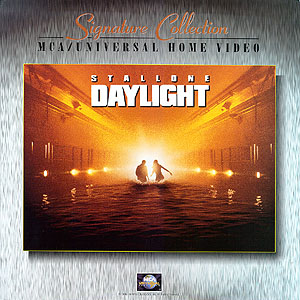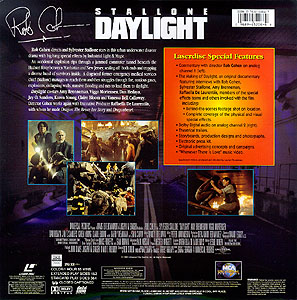 The set includes the following supplemental materials:
Features 5.1 channel Dolby Digital (AC-3) soundtrack (feature film only)
Presented in the 1.85:1 aspect ratio of the original 35 millimeter theatrical prints
Running audio commentary by director Rob Cohen on the left analog channel.
The Making of Daylight, an original documentary featuring interviews with Rob Cohen, Sylvester Stallone, Amy Brenneman, Raffaella De Laurentiis, members of the special effects teams and others involved with the film including behind-the-scenes footage shot on location and complete coverage of the physical and visual special effects.
Theatrical Trailers
Storyboards
Production designs and photographs
Electronic Press Kit
Original Advertising concepts and campaigns
Whenever There is Love music video
Gatefold Jacket with informative essay.
*
CX Encoding on supplemental material only.
Synopsis:
Brace yourself for non-stop action and suspense! Sylvester Stallone races against time to lead a group of stranded commuters out of a collapsed tunnel seventy-two feet below the Hudson River, to Daylight.

When an explosion seals off a commuter tunnel, the survivors are faced with toxic fumes, fires and the impending collapse of the tunnel. Their only hope lies in the hands of Kit Latura (Stallone), a former Emergency Medical Services chief who is haunted by a tragic past. As the walls cave in and the tunnel fills up with water, Latura risks his own life to save others and prevent the disaster from escalating into an even greater catastrophe.

Amy Brenneman co-stars in this thrilling action adventure. Filled with spectacular special effects and heart-pounding intensity, Daylight will have you holding your breath from start to finish.
Last Updated: June 18, 1997
©1997 Blam Entertainment Group