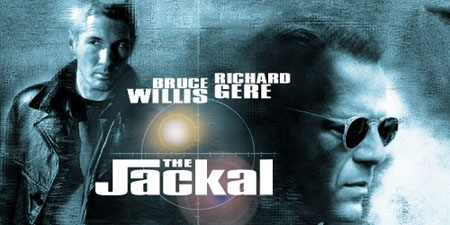 ©1997 Universal City Studios, Inc. All rights reserved.
Catalog Number
43156
Format
Extended Play CLV
Table of Contents
Running Time
125 minutes

Side
Chapters
Frames
Running Time
1
17
58min 11sec
2
8
41min 17sec
3 +
7 (8)
37,768 (37,927)
26min 13sec
33
125min 41sec
Supplemental Material
3
1
159
05sec *
4
9
46min 49sec
10
46min 54sec
* Contains untimed still elements. Due to variations in transferring film and video to LaserDisc, exact run time may vary.

+ Because of the supplemental elements of side 3, the side is listed twice. The number within () represents the complete information for the side, including supplements.

| | |
| --- | --- |
| Pressing Location | Pioneer Video Manufacturing |
| Aspect Ratio | |
| Retail Price | $39.98 |
| Issued | April 28, 1998 |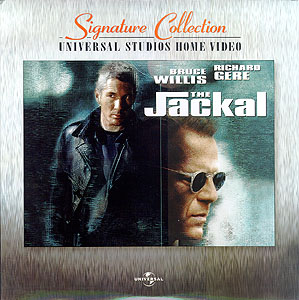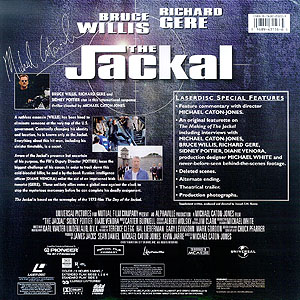 The set includes the following supplemental materials:
Features 5.1 channel Dolby Digital (AC-3) soundtrack
Presented in the 2.35:1 aspect ratio of the original 35 millimeter anamorphic theatrical prints
Running audio commentary by director Michael Caton-Jones.
The Making of The Jackal, an original documentary featuring interviews with Michael Caton-Jones, cast members Bruce Willis, Richard Gere, Sidney Poitier, Diane Venora, and production designer Michael White.
Behind-the-scenes footage
Deleted scenes
An Alternate Ending
Production Stills
Theatrical Trailer
*
CX Encoding on supplemental material only.
Synopsis:
A ruthless assassin (Bruce Willis) has been hired by international cutthroats to eliminate someone at the very top of the United States Government. His price: 70 million dollars. Constantly on the move, changing his identity and location, everything about this hit man, including his sinister timetable is a secret. He is known only as the Jackal. Aware of the Jackal's presence but uncertain of his purpose, the FBI's Deputy Director (Sidney Poitier) and a by-the-book Russian intelligence officer (Diane Venora) face the biggest challenge of their careers - to track down this cold-blooded killer. Consequently, they enlist the aid of an imprisoned underground operative (Richard Gere) who has his own history with the Jackal. Together, these unlikely allies enter a global race against the clock to stop the mysterious mercenary before he can complete his deadly assignment.
Last Updated: May 21, 1998
©1998 Blam Entertainment Group