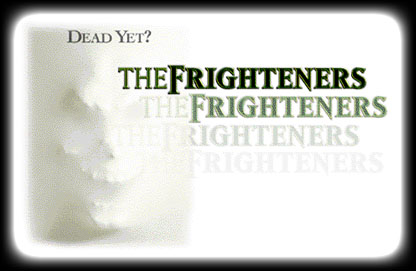 ©1996 Universal City Studios, Inc. All rights reserved.
Catalog Number
42970
Format
Extended Play CLV
Table of Contents
Running Time
122 minutes

Side
Chapters
Frames
Running Time
1
23
59min 25sec
2
18
43min 47sec
3
9
32,189
22min 21sec
50
125min 33sec
Supplemental Material
4
3
58min 03sec
5
8
51min 22sec
6
6
53min 49sec
7
9
54min 55sec
8
4
51min 18sec
30
269min 27sec

| | |
| --- | --- |
| Pressing Location | Pioneer Video Manufacturing |
| Letterbox Aspect Ratio | |
| Retail Price | $49.98 |
| Issued | November 24, 1998 |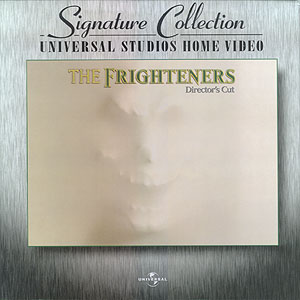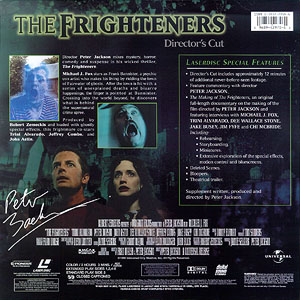 The set includes the following supplemental materials:
Presented in the 2.35:1 aspect ratio of the original 35 millimeter anamorphic theatrical prints
Director's Cut includes approximately 12 minutes of additional never-before-seen footage
Running audio commentary by director Peter Jackson
The Making of The Frighteners, an original full-length 4½-hour documentary on the making of the film written, directed and produced by Peter Jackson, featuring featuring interviews with Michael J. Fox, Trini Alvarado, Dee Wallace Stone, Jake Busey, Jim Fyfe and Chi McBride
Including:
Rehearsing
Storyboarding
Miniatures
Extensive exploration of the special effects, motion control and bluescreens.
Deleted Scenes
Bloopers
Theatrical Trailer
*
CX Encoding on supplemental material only.

Synopsis:
In the sleepy little town of Fairwater, a monstrous evil has awakened...an evil so powerful, its reach extends beyond the grave. Director Peter Jackson and Executive Producer Robert Zemeckis unleash a riveting thriller with the most spectacular special effects this side of the hearafter.

For Frank Bannister (Michael J. Fox), death is a great way to make a living: ridding haunted houses of their unwelcome "guests". But as it happens, he's in cahoots with the very ghosts he promises to evict! It's the perfect scam...until Frank finds himself at the center of a dark and terrible mystery. A diabolical spirit is on a murderous rampage, and the whole town believes Frank is behind it. Desperate to find the true culprit and exorcise his own personal "demons", Frank crosses the ultimate barrier into a shadowy world where even death can't stop a killer.
Last Updated: November 23, 1998
©1998 Blam Entertainment Group