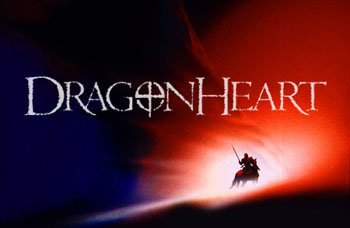 ©1996 Universal City Studios, Inc. All rights reserved.
Catalog Number
42968
Format
Standard Play CAV
Table of Contents
Running Time
103 minutes

Side
Chapters
Frames
Running Time
1
8
32,798
22min 46sec
2
8
39,829
27min 40sec
3
10
37,627
26min 09sec
4
8
40,231
27min 57sec
34
150,485
104min 19sec
Supplemental Material
5
5
50,098
29min 38sec
6
10
45,532
28min 06sec
15
95,950
57min 44sec
Contains untimed still elements. Due to variations in transferring film and video to LaserDisc, exact run time may vary.

| | |
| --- | --- |
| Pressing Location | Pioneer Video Manufacturing |
| Letterbox Aspect Ratio | |
| Retail Price | $129.98 |
| Issued | January 14, 1997 |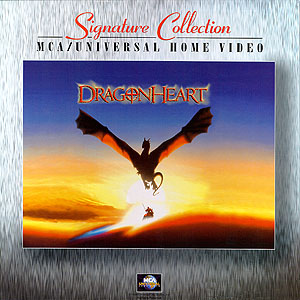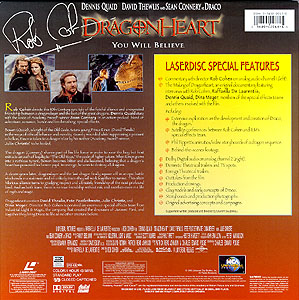 The set includes the following supplemental materials:
Features 5.1 channel Dolby Digital (AC-3) soundtrack (feature film only)
Running audio commentary by director Rob Cohen on the left analog channel.
The Making of Dragonheart, an original documentary featuring interviews with Rob Cohen, producer Raffaella De Laurentiis, Dennis Quaid, Dina Meyer, members of the special effects teams and others involved with the film.
Including:
Extensive exploration on the development and creation of Draco, the dragon.
Sattelite conferences between Rob Cohen and ILM's special effects team.
Phil Toppett's animatics / video storyboards of a dragon sequence.
Behind-the-scenes footage.
Domestic and Foreign theatrical trailers.
Outtakes
Production Drawings, storyboards, production photographs and more!
Box Set with Insert
*
CX Encoding on supplemental material only.
Synopsis:
Long ago, when majestic fire-breathers soared through the skies, there lived a knight who would come face-to-face and heart-to heart with the most remarkable creature that ever existed. Dennis Quaid stars with the voice of Academy Award® Winner Sean Connery in acclaimed director Rob Cohen's action-packed heroic adventure that blazes with fantasy, humor, and the most amazing special effects since Jurassic Park®!

Bowen (Quaid) is a knight dedicated to The Old Code - a nobel creed of honor. When his pupil, Prince Einon, becomes an even crueler king than his father, Bowen's idealism turns to bitterness. Believing Einon's soul to have been poisoned by a dragon, Bowen vows to destroy them all - to the very last. On his quest for revenge, he meets the dragon "Draco" (Connery), whose power, strength and wit prove to be more than a match for the disillusioned knight. And what begins as a life or death struggle between the two evolves into a friendship that will change the face of their medieval world.

Co-starring David Thewlis, Pete Postlethwaite, Julie Christie and Dina Meyer, this epic adventure will move and thrill the entire family.
Last Updated: February 3, 1998
©1998 Blam Entertainment Group