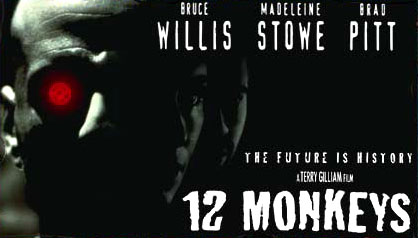 ©1995 Universal City Studios, Inc. All rights reserved.
Catalog Number
42923
Format
Extended Play CLV
Table of Contents
Running Time
130 minutes

Side
Chapters
Frames
Running Time
1
12
43min 20sec
2
21
59min 26sec
3 +
12 (13)
40,175 (40,498)
27min 53sec
45
130min 39sec
Supplemental Material
3
1
323
10sec *
4
9
54min 03sec
5
5
36min 52sec
15
91min 05sec
* Contains untimed still elements. Due to variations in transferring film and video to LaserDisc, exact run time may vary.
+ Because of the still elements of side 3, the side is listed twice. The number within () represents the complete information for the side, including supplements.

| | |
| --- | --- |
| Pressing Location | Pioneer Video Manufacturing |
| Letterbox Aspect Ratio | |
| Retail Price | $129.98 |
| Issued | February 18, 1997 |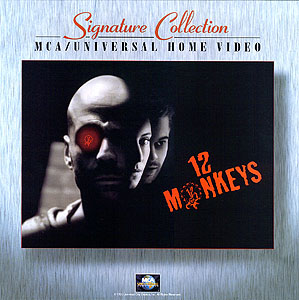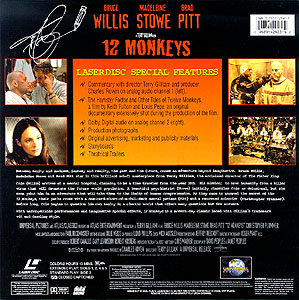 The set includes the following supplemental materials:
Features 5.1 channel Dolby Digital (AC-3) soundtrack (feature film only)
Running audio commentary by director Terry Gilliam and producer Chuck Roven on the left analog channel.
The Hamster Factor and Other Tales of Twelve Monkeys, an original documentary extensively shot during the production of the film with a behind-the-scenes look at the director, cast and crew.
Theatrical Trailers.
Storyboards and production photographs
Box Set with Insert
*
CX Encoding on supplemental material only.
Synopsis:
Between sanity and madness, fantasy and reality, the past and future, comes an adventure beyond imagination. Bruce Willis, Madeleine Stowe, and Brad Pitt star in this brilliant sci-fi Masterpiece from Terry Gilliam, the acclaimed director of Brazil and The Fisher King.

Cole (Willis) arrives at a mental hospital, claiming to be a time traveler from the year 2035. His mission: to save humanity from a killer virus that will devastate the future world population. A beautiful psychiatrist (Stowe) initially classifies Cole as delusional, but she soon joins him in an adventure that will take them to the limits of human comprehension. As they race to unravel the secret of the 12 Monkeys, their paths cross with a one-card-short-of-a-full-deck mental patient (Pitt) and a renowned scientist (Christopher Plummer). Before long, Cole begins to question his own sanity in a chaotic world that offers many questions, but few answers.

With unforgettable performances and imaginative special effects, 12 Monkeys is a modern-day classic laced with Gilliam's trademark wit and dazzling style.
Last Updated: February 26, 1997
©1997 Blam Entertainment Group