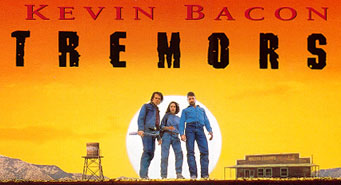 ©1989 Universal City Studios, Inc. All rights reserved.
Catalog Number
42781
Format
Extended Play CLV
Running Time
96 minutes

Side
Chapters
Frames
Running Time
1
17
44min 57sec
2
22
51min 09sec
39
96min 06sec
Supplemental Material
3
10
53min 33sec
4
9
35,015
24min 18sec *
19
77min 51sec *
* Contains untimed still elements. Due to variations in transferring film and video to LaserDisc, exact run time may vary.

| | |
| --- | --- |
| Pressing Location | Pioneer Video Manufacturing |
| Letterbox Aspect Ratio | |
| Retail Price | $69.98 |
| Issued | April 16, 1996 |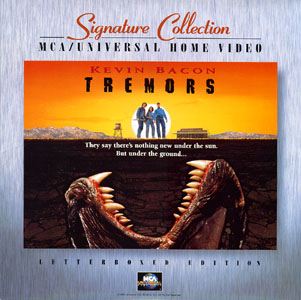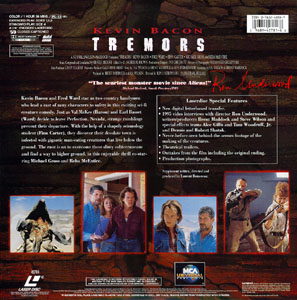 The set includes the following supplemental materials:
New digital letterboxed transfer.
1995 video interviews with director Ron Underwood, writers/producers Brent Maddock and Steve Wilson and special effects teams Alec Gillis and Tom Woodruff, Jr. and Dennis and Robert Skotak.
Never-before-seen behind-the-scenes footage of the making of the creatures.
Theatrical trailers.
Outtakes from the film including the original ending.
Production photographs.
Synopsis:
Kevin Bacon and Fred Ward star as two country handymen who lead a cast of zany characters to safety in this exciting sci-fi creature comedy. Just as Val McKee (Bacon) and Earl Basset (Ward) decide to leave Perfection, Nevada, strange rumblings prevent their departure. With the help of a shapely seismology student (Finn Carter), they discover their desolate town is infested with gigantic man-eating creatures that live below the ground. The race is on to overcome these slimy subterraneans and fins a way to higher ground, in this enjoyable thriller co-starring Michael Gross and Reba McEntire.
Last Updated: February 14, 1998
©1998 Blam Entertainment Group