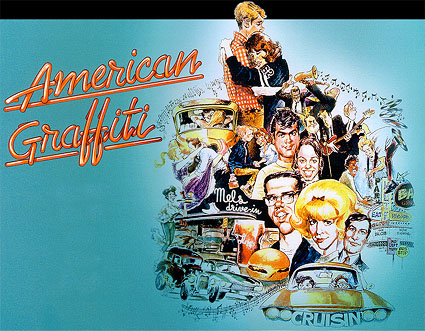 ©1973 Universal City Studios, Inc. All rights reserved.
Catalog Number
42725
Format
Extended Play CLV
Table of Contents
Running Time
113 minutes

Side
Chapters
Frames
Running Time
1
25
53min 26sec
2
25
59min 56sec
50
113min 22sec
Supplemental Material
3
5
55min 25sec
4
5
42,834
25min 43sec
9
81min 08sec
Due to variations in transferring film and video to LaserDisc, exact run time may vary.

| | |
| --- | --- |
| Pressing Location | Pioneer Video Manufacturing |
| Aspect Ratio | |
| Retail Price | $39.98 |
| Street Date | October 6, 1998 |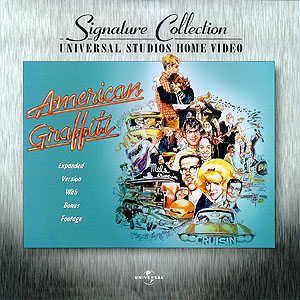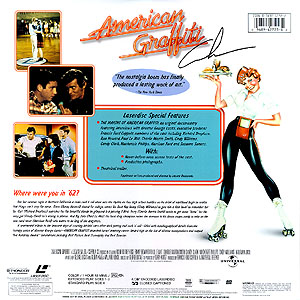 The set includes the following supplemental materials:
Presented in the 2.35:1 aspect ratio of the original 35 millimeter anamorphic theatrical prints
The Making of American Graffiti, an original documentary featuring interviews with director George Lucas, executive producer Francis Ford Coppola, members of the cast including Richard Dreyfuss, Ron Howard, Paul Le Mat, Charles Martin Smith, Cindy Williams, Candy Clark, Mackenzie Phillips, Harrison Ford and Suzanne Somers.
Also includes:
Never-before-seen screen tests of the cast
Production Photographs
Theatrical Trailer

Synopsis:
One hot summer night in Northern California, a radio rock 'n' roll show sets the rhythm as four high school buddies on the brink of adulthood begin to realize that things can't stay the same. Steve (Ronny Howard), bound for college, wants his Sock Hop honey (Cindy Williams) to give him a little lovin' to remember her by. Curt (Richard Dreyfuss) searches for the beautiful blonde he glimpsed in a passing T-Bird. Terry (Charlie Martin Smith) needs to get some "brew" for the sexy gal (Candy Clark) he's aiming to please. And Big John (Paul Le Mat), the local drag champion, roams the avenues in his deuce coupe, ready to take on the new road racer (Harrison Ford) who wants to be king of the dragsters.

A sentimental tribute to the innocent days of cruising, bitchin' cars, after-dark petting and rock 'n' roll - filled with autobiographical details from the teenage years of director George Lucas - American Graffiti launched Lucas' amazing career, landed high on the list of all-time moneymakers and reaped five Academy Award® nominations, including Best Picture, Best Screenplay and Best Director.
Last Updated: October 6, 1998
©1998 Blam Entertainment Group