©1983 Universal City Studios, Inc. All rights reserved.
Catalog Number
42724
Format
Extended Play CLV
Table of Contents
Running Time
170 minutes

Side
Chapters
Frames
Running Time
1
12
59min 35sec
2
11
58min 19sec
3
11
52min 39sec
34
170min 33sec
Supplemental Material
4
4
35,998
24min 55sec *
5
17
52min 26sec
21
77min 21sec *
* Contains untimed still elements. Due to variations in transferring film and video to LaserDisc, exact run time may vary.

| | |
| --- | --- |
| Pressing Location | Pioneer Video Manufacturing |
| Letterbox Aspect Ratio | |
| Retail Price | $129.98 |
| Issued | August 27, 1996 |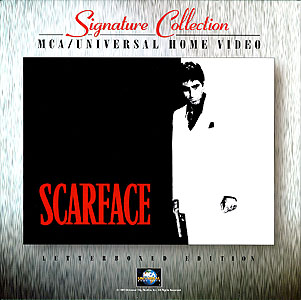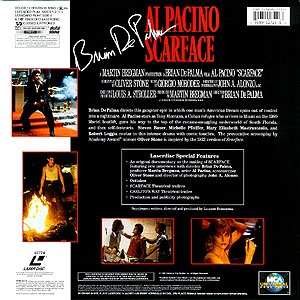 The set includes the following supplemental materials:
An original documentary on the making of SCARFACE featuring new interviews with director Brian De Palma, producer Martin Bregman, actor Al Pacino, screenwriter Oliver Stone and director of photography John A. Alonzo. Topics of the documentary include the MPAA rating dilemma, the infamous chainsaw scene, filming locations and casting.
Outtakes
SCARFACE Theatrical trailers
CARLITO'S WAY Theatrical trailer
Publicity and production photographs
Box Set with color insert
Synopsis:
Brian De Palma directs this gangster epic in which one man's American Dream spins out of control into a nightmare. Al Pacino stars as Tony Montana, a Cuban refugee who arrives in Miami on the 1980 Mariel boatlift, guns his way to the top of the cocaine-smuggling underworld of South Florida, and then self-destructs. Steven Bauer, Michelle Pfeiffer, Mary Elizabeth Mastrantonio and Robert Loggia co-star in this intense drama with comic touches. The provocative screenplay by Academy Award® winner Oliver Stone is inspired by the 1932 version of Scarface.
Last Updated: May 9, 1997
©1997 Blam Entertainment Group