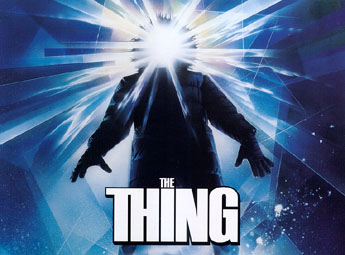 ©1982 Universal City Studios, Inc. All rights reserved.
Catalog Number
42654
Format
Extended Play CLV
Table of Contents
Running Time
108 minutes

Side
Chapters
Frames
Running Time
1
21
55min 46sec
2
18
55min 56sec
39
111min 02sec
Supplemental Material
3
6
60min 00sec
4
12
48,785
29min 39sec *
18
89min 39sec
* Contains untimed still elements. Due to variations in transferring film and video to LaserDisc, exact run time may vary.

| | |
| --- | --- |
| Pressing Location | Pioneer Video Manufacturing |
| Letterbox Aspect Ratio | |
| Retail Price | $39.98 |
| Issued | September 8, 1998 |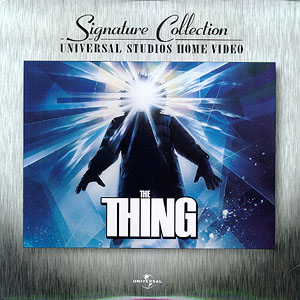 The set includes the following supplemental materials:
Presented in the 2.35:1 aspect ratio of the original 35 millimeter anamorphic theatrical prints
Features 5.1 channel Dolby Digital (AC-3) soundtrack
Running audio commentary by director John Carpenter and star Kurt Russell.
John Carpenter's The Thing: Terror Takes Shape, an 80 minute original documentary featuring interviews with John Carpenter, Kurt Russell, special effects make-up designer Rob Bottin, legendary matte artist Albert Whitlock, plus other members of the cast, crew and special effects team. Also includes:
Never-before-seen stop motion animation footage cut from the film.
Exclusive work-in-progress visual effects footage.
Behind - the - scenes location footage.
Behind-the-scenes footage.
Original theatrical trailer
Outtakes from the film
Behind-the-scenes photographs
Storyboards and conceptual art
Annotated production archive
*
CX Encoding on supplemental material only.

Synopsis:
At a remote Antarctic outpost, a research team discovers an alien that has been buried in the snow for 100,000 years. As the creature thaws, the horror begins. The alien threat combines with isolation and paranoia to turn the researchers against each other in a fight for survival.
Last Updated: September 8, 1998
©1998 Blam Entertainment Group