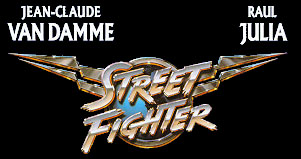 ©1994 CAPCOM Co., Ltd. All rights reserved. "Street Fighter" and Street Fighter Characters TM & ©1994 CAPCOM Co., Ltd.
Catalog Number
42404
Format
Extended Play CLV
Running Time
102 minutes

Side
Chapters
Frames
Running Time
1
19
50min 37sec
2
21
51min 22sec
40
101min 59sec
Supplemental Material
3
8
41,323
28min 41sec *
* Contains untimed still elements. Due to variations in transferring film and video to LaserDisc, exact run time may vary.

| | |
| --- | --- |
| Pressing Location | Pioneer Video Manufacturing |
| Letterbox Aspect Ratio | |
| Retail Price | $69.98 |
| Issued | September 19, 1995 |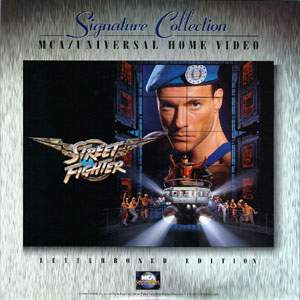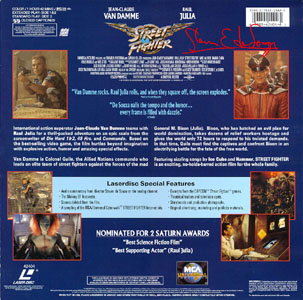 The set includes the following supplemental materials:
Audio commentary from director Steven de Souza on the left analog channel
The Making of featurette.
Scenes deleted from the film.
A sampling of the Universal Studios CyberwalkTM STREET FIGHTER Internet site.
Excerpts from the CAPCOMTM Street FighterTM games.
Storyboards and production photographs.
Original advertising, marketing and publicity materials.
Synopsis:
International action superstar Jean-Claude Van Damme teams with Raul Julia for a thrill-packed adventure on an epic scale from the screenwriter of Die Hard 1 & 2, 48 hrs. and Commando. Based on the best-selling video game, the film hurtles beyond imagination with explosive action, humor and amazing special effects.

Van Damme is Colonel Guile, the Allied Nations commando who leads an elite team of street fighters against the forces of the mad General M. Bison (Julia). Bison, who has hatched an evil plan for world domination, takes dozens of relief workers hostage and gives the world only 72 hours to respond to his twisted demands. In that time, Guile must find the captives and confront Bison in an electrifying battle for the fate of the free world.

Featuring sizzling songs by Ice Cube and Hammer, Street Fighter is an exciting, no-holds-barred action film for the whole family.
Last Updated: September 9, 1997
©1997 Blam Entertainment Group