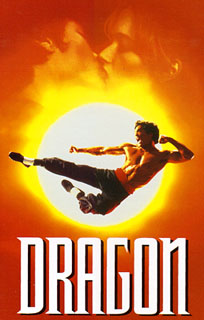 ©1993 Universal City Studios, Inc. All rights reserved.
Catalog Number
41926
Format
Extended Play CLV
Running Time
120 minutes

Side
Chapters
Frames
Running Time
1
17
53min 27sec +
2
12
46min 40sec
3
6
40,974
28min 27sec
35
128min 34sec +
Supplemental Material
4
13
44,653
24min 48sec *
* Contains untimed still elements. Due to variations in transferring film and video to LaserDisc, exact run time may vary.
+ Side 1 begins with the theatrical trailer and an introduction by Linda Lee Cadwell. The actual run time of the feature is 120min.

| | |
| --- | --- |
| Pressing Location | Pioneer Video Manufacturing |
| Letterbox Aspect Ratio | |
| Retail Price | $69.98 |
| Issued | March 7, 1995 |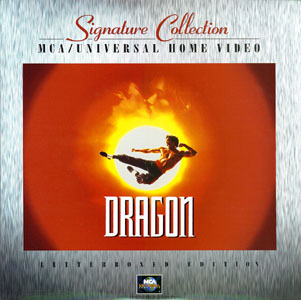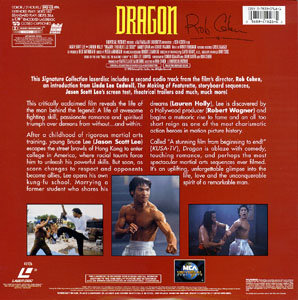 The set includes the following supplemental materials:
Running audio commentary by director Rob Cohen on the right analog channel.
Introduction by Linda Lee Cadwell.
The Making of Featurette.
Storyboard sequences.
Jason Scott Lee's screen test.
Theatrical trailers.
Synopsis:
After a childhood of rigorous martial arts training, young Bruce Lee (Jason Scott Lee) escapes the street-brawls of Hong Kong to enter college in America. However, racial taunts and prejudice force him to unleash his powerful skills. Soon, scorn changes to respect and opponents become allies as Lee opens his own kung-fu school, defying his own peers who want to keep the secrets of martial arts techniques within the Asian community. Marrying a former student who shares his dreams (Lauren Holly), Lee is discovered by a Hollywood producer (Robert Wagner) and begins a meteoric rise to fame and a tragically short reign that comes to a sudden end just as film audiences worldwide begin to discover his charismatic appeal.
Updated: May 3, 2001
©2001 Blam Entertainment Group