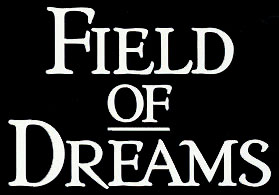 ©1989 Universal City Studios, Inc. All rights reserved.
Catalog Number
41925
Format
Extended Play CLV
Running Time
106 minutes

Side
Chapters
Frames
Running Time
1
19
59min 37sec
2
16
48min 48sec
35
108min 25sec
Supplemental Material
3
24
59min 23sec
4
11
51,751
28min 45sec *
35
88min 08sec *
* Contains untimed still elements. Due to variations in transferring film and video to LaserDisc, exact run time may vary.

| | |
| --- | --- |
| Pressing Location | Pioneer Video Manufacturing |
| Letterbox Aspect Ratio | |
| Retail Price | $89.98 |
| Issued | June 18, 1996 |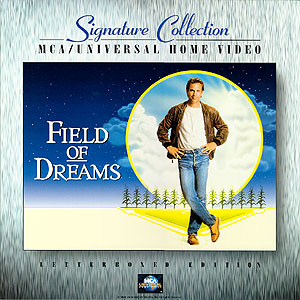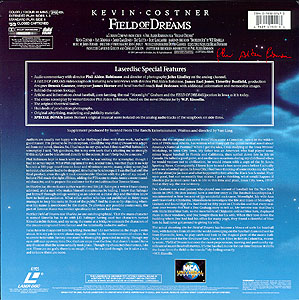 The set includes the following supplemental materials:
Running audio commentary from Director Phil Alden Robinson and Director of Photography John Lindley on the left analog channel.
A Field of Dreams video scrapbook featuring new interviews with director Phil Alden Robinson, James Earl Jones, Timothy Busfield, production designer Dennis Gassner, composer James Horner and head baseball coach Rod Dedeaux with additional information and memorable images.
Behind-the-scenes footage.
Articles and information about about baseball, corn farming, the real "Moonlight" Graham and the Field of Dreams location in Iowa as it is today.
The entire screenplay by writer/director Phil Alden Robinson, based on the novel Shoeless Joe by W.P. Kinsella.
The original theatrical trailer.
Hundreds of production photographs.
Original advertising, marketing and publicity materials.
Special Bonus: James Horner's original musical score isolated on the analog audio tracks of the scrapbook on side three.
*
CX Encoding is only applicable on supplemental material
Synopsis:
"If you build it, he will come."

With these words, Iowa farmer Ray Kinsella (Kevin Costner) is inspired by a voice he can't ignore to pursue a dream he can hardly believe.

Supported by his wife Annie (Amy Madigan), Ray begins the quest by turning his ordinary cornfield into a place where dreams can come true. Along the way he meets reclusive activist Terence Mann (James Earl Jones), the mysterious "Doc" Graham (Burt Lancaster) and even the legendary "Shoeless Joe" Jackson (Ray Liotta).

A heartwarming experience that has moved critics and audiences like no other film of its generation, FIELD OF DREAMS is a glowing tribute to all who dare to dream.
Updated: May 3, 2001
©2001 Blam Entertainment Group