SPECIAL LONGER VERSION
©1979 Paramount Pictures. All rights reserved.

Full Frame - 1st Edition Full Frame - 2nd Edition


Catalog Number
SF098-0058
Format
Extended Play CLV
Japanese Subtitles
Trailer
GateFold Jacket
Running Time
144 minutes

Side
Chapters
Running Time
1
18
50min 15sec
2
9
48min 07sec
3
4
46min 41sec
31
145min 03sec

| | |
| --- | --- |
| Pressing Location | LaserDisc Corporation - Japan |
| Retail Price | ¥9,800 |
| Issued | July 7, 1985 |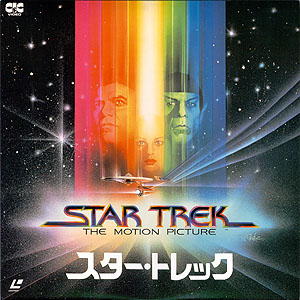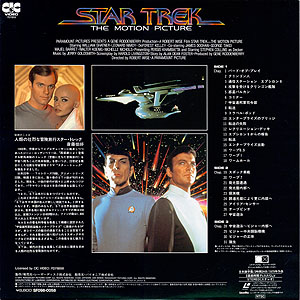 Directed by
Robert Wise
Screenplay by
Harold Livingston
Story by
Alan Dean Foster
Produced by
Gene Roddenberry
Music by
Jerry Goldsmith
Starring
William Shatner
Leonard Nimoy
DeForest Kelley
Co-Starring
James Doohan
George Takei
Majel Barrett
Walter Koenig
Nichelle Nichols
Presenting
Persis Khambatta
and Starring
Stephen Collins
Stardate 7412.6
A special effects bonanza that earned Star Trek: The Motion Picture an Academy Award® nomination, the dazzling, refurbished U.S.S. Enterprise soars proudly once again in this ultimate space adventure.

When an unidentified alien destroys three powerful Klingon cruisers, Captain James T. Kirk (William Shatner) returns to the newly-transformed U.S.S. Enterprise to take command. Shatner is joined in this heroic mission by Leonard Nimoy, DeForest Kelley, and the cast from the acclaimed Star Trek television series. The entire crew mobilizes at warp speed to stop the alien intruder from its relentless flight toward Earth.
The Extended Edition was the only version of The Motion Picture available in Japan until the widescreen edition was issued in 1993.

Updated: October 11, 2003
©2003 Blam Entertainment Group