Paramount Directors Series
©1986/1991 Paramount Pictures. All rights reserved.

Japanese Editions:
Widescreen - 1st Edition Widescreen - 2nd Edition Rental Bilingual


Catalog Number
PILF-1769
Format
Extended Play CLV
Subtitles in Japanese
Table of Contents
2 Theatrical Trailers
Gatefold Jacket
Running Time
136 minutes

Side
Running Times
Chapters
Prologue
Feature
Total
1
10
15min 46sec
42min 28sec
58min 14sec
2
7
56min 53sec
56min 53sec
3
5
1min 05sec
22min 41sec
23min 46sec
20
16min 51sec
122min 02sec
138min 53sec

| | |
| --- | --- |
| Pressing Location | Pioneer LDC, Inc - Japan |
| Retail Price | ¥5,700 |
| Issued | March 10, 1994 |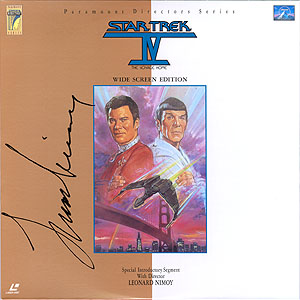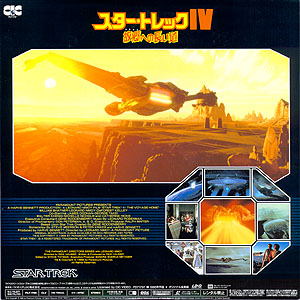 Directed by
Leonard Nimoy
Screenplay by
Steve Meerson, Peter Krikes,
Harve Bennett and Nicholas Meyer
Story by
Leonard Nimoy and Harve Bennett
Produced by
Harve Bennett
Executive Consultant
Gene Roddenberry
Executive Producer
Ralph Winter
Music by
Leonard Rosenman
Starring
William Shatner
Leonard Nimoy
DeForest Kelley
Co-Starring
James Doohan
George Takei
Walter Koenig
Nichelle Nichols and
Catherine Hicks
Stardate 8390.0
It's the 23rd century, and a mysterious alien power is threatening Earth by evaporating the oceans and destroying the atmosphere. In a frantic attempt to save mankind, Kirk and his crew must time travel back to 1986 San Francisco where they find a world of punk, pizza and exact-change buses that are as alien as anything they've ever encountered in the far reaches of the galaxy.

In a special prologue, director and star Leonard Nimoy talks about the evolution of the Star Trek films and the challenges of directing Star Trek IV: The Voyage Home.

All widescreen editions of The Voyage Home were the Director's Series edition. The 3½ minute prologue added to the Pan & Scan editions of the film were removed.

Updated: May 17, 2003
©2003 Blam Entertainment Group