Stardate 6063.4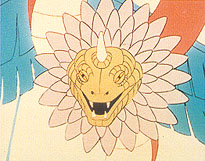 A mysterious probe that scanned a Federation system and sent a signal into outer space is pursued by the U.S.S. Enterprise, which follows its propulsion trail to see if it can catch the probe. While tacking the probe, the Enterprise encounters an alien vessel that is surrounded by a magnificent energy field which proceeds to encompass the Federation ship. The alien ship transforms itself into the shape of a large feathered serpent which reveals itself as Kulkukan of ancient Mayan-Aztec legend. Upset over being forgotten by Earthlings, Kulkukan transports Kirk, Scott, McCoy, and Ensign Dawson Walking Bear to his ship to solve an enigmatic puzzle. If they succeed, Kulkukan will reveal himself. If they fail, the crew will all perish.

The four crew members are transported to an Earth-like city filled with many cultures and must force a light source to strike a certain space on an ancient pyramid. When they accomplish the task, Kulkukan appears as the winged serpent, alleging to be their master. Transported to an ominous "life-room," the crew members notice a variety of creatures from around the galaxy, including the ferocious, but now peaceful, Capellan power-cat. Kirk explains that they cannot accept Kulkukan as their master, despite his contributions to mankind.

On the U.S.S. Enterprise, Spock discovers a way to break the energy field surrounding the ship, distracting Kulkukan from the other crewmen. The men release the animals from their cages, thereby creating a chaos which Kulkukan is unable to control. The power-cat traps Kulkukan and prepares to kill him; Kulkukan is forced to reveal himself as a mortal. Kirk saves Kulkukan and thus teaches him a valuable lesson about human survival. Kulkukan leaves as an old, broken mortal, and Kirk decides that the price of infinite knowledge is too high to pay.