Stardate 5683.1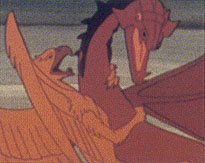 The USS Enterprise arrives at the Vedala asteroid, where Kirk and Spock are summoned to learn about a stolen religious artifact that could ignite a galaxy-wide holy war, a jihad. A team of specialists are called in to recover the item with Kirk and Spock: Tchar — the hereditary prince of the Skorr, Sord — a powerful reptilian, a master lockpick — Em/3/Green, and Lara — a great hunter.

The Vedalan tells the team that the artifact dates back two centuries, when Tchar's people were fighters and a religious leader, Alar, came to teach fundamentals of peace. Alar's brain patterns were preserved in the sculpture, the "Soul of the Skorr." Now the device has been stolen and is hidden on the very unstable "mad planet." The Vedala transports the group to the planet where they encounter harsh weather, quakes, volcanic lava flow, and severe winds. After barely escaping a lava river, the team finds itself nearing a position that Tchar had originally spotted from the air.

Tchar flies ahead to investigate the fortress in which the object is kept. Meanwhile, Kirk and Lara scout ahead to explore the terrain. Rejoining the group, they head for the fortress on foot to rendezvous with Tchar. Upon reaching the structure, Em/3/Green picks the lock, but the team is attacked by a group of mechanical birds who are protecting the building. They narrowly make it inside and after surviving a set of traps, they find the sculpture, but conclude that it must have been Tchar who originally stole the object. Tchar admits his treachery, saying that his people have become a docile race, and the ensuing war will make them great again. Tchar tells them that their mission must always remain secret so that no one will learn about the treachery. Kirk and Spock return to the USS Enterprise noting that, remarkably, only two minutes had passed since they beamed to the asteroid.