Stardate 5275.6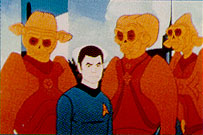 The USS Enterprise arrives at Dramia I to deliver medical supplies when Dr. McCoy is arrested for mass slaughter and imprisoned. Nineteen years prior, the doctor had created an inoculation program for a Saurian virus on Dramia II, but immediately following his departure a plague virtually wiped out the entire population.

Kirk, aware of the swift Dramian justice system, worries about McCoy's future while McCoy thinks that the plague may have been his fault. Kirk and Spock begin an investigation into the plague and realize they must go to Dramia II to draw some conclusions. En route, they are pursued by Demos, the Dramian head of security. The USS Enterprise entraps the Dramian ship and holds it impounded. Forcing Demos to accompany them, the ship passes through an orbiting aurora and the three beam down to the planet.

On the planet, they pursue a plague survivor, Kol-Tai. When they finally catch up to him, he tells them of McCoy's courage and ability to save the Dramians from the virus, 19 years ago. Kol-Tai agrees to testify of McCoy's behalf, but the crew must return to Dramia I quickly or it will be too late.

Complicating matters, Kol-Tai brings the plague on board the USS Enterprise, and infects the entire crew, except an immune Spock. Kol-Tai may not live long enough to testify, while Demos still believes McCoy guilty but has himself contracted the fatal disease. Spock illegally breaks McCoy out of prison to cure the plague on the USS Enterprise. On board McCoy discovers that he is innocent and that the aurora recently encountered is the actual cause of the plague. By using blood samples from the infected, McCoy cures the plague and shares the information with the Dramians. Demos and the Dramian government agrees to dismiss the unorthodox jailbreak and drop the charges.