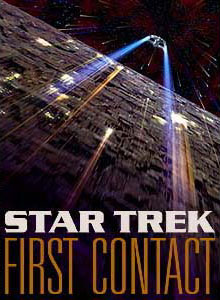 ©1996 Paramount Pictures. All rights reserved.

US Editions:
Full Frame Widescreen


Catalog Number
LV332433
Format
Extended Play CLV
Table of Contents
Running Time
111 minutes

Side
Chapters
Running Time
1
18
56min 05sec
2
13
55min 31sec
31
111min 36sec

| | |
| --- | --- |
| Pressing Location | Pioneer Video Manufacturing |
| Retail Price | $39.98 |
| Issued | June 17, 1997 |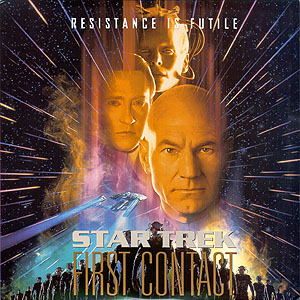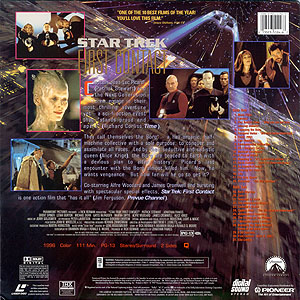 Directed by
Jonathan Frakes
Screenplay by
Ronald D. Moore & Brannon Braga
Story by
Rick Berman & Ronald D. Moore &
Brannon Braga
Produced by
Rick Berman
Executive Producer
Martin Hornstein
Music by
Jerry Goldsmith
Starring
Patrick Stewart
Jonathan Frakes
Brent Spiner
LeVar Burton
Michael Dorn
Gates McFadden
Marina Sirtis
Alfre Woodard
James Cromwell
Alice Krige
Stardate Unknown
Captain Jean-Luc Picard (Patrick Stewart) and the Next Generation crew engage in their most thrilling adventure yet - a sci-fi event that "stands proud and apart" (Richard Coriss, Time).

They call themselves the Borg® - a half-organic, half-machine collective with a sole purpose: to conquer and assimilate all races. Led by their seductive and sadistic queen (Alice Krige), the Borg are headed to Earth with a devious plan to alter history.

Caption Picard is ordered to patrol the Romulan Neutral Zone in the new Enterprise-E while the rest of the fleet battles against the Borg. Ignoring orders, Picard follows the Borg into the past. The crew struggle to insure the first flight of Zefram Cochrane and his test of Earth's first Warp Drive spaceship. If they fail, Earth of the future will cease to exist.

Updated: January 21, 2003
©2003 Blam Entertainment Group