©1982 Paramount Pictures. All rights reserved.

US Editions:
Full Frame Widescreen


Catalog Number
LV1180
Format
Extended Play CLV
Running Time
113 minutes

Side
Running Time
1
59min 30sec
2
54min 06sec
113min 36sec

Pressing Location
Pioneer Video Manufacturing - Japan
Pioneer Video Manufacturing
Retail Price
$29.98
Issued
1983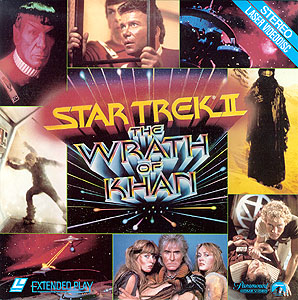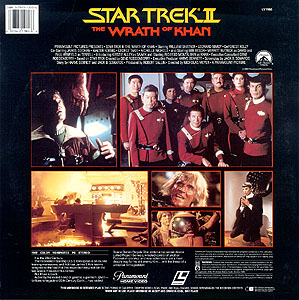 Directed by
Nicholas Meyer
Screenplay by
Jack B. Sowards
Story by
Harve Bennett and Jack B. Sowards
Produced by
Robert Sallin
Executive Consultant
Gene Roddenberry
Executive Producer
Harve Bennett
Music by
James Horner
Starring
William Shatner
Leonard Nimoy
DeForest Kelley
Co-Starring
James Doohan
Walter Koenig
George Takei
Nichelle Nichols
also Starring
Bibi Beach
Merritt Butrick as David and
Paul Winfield as Tarrell
Introducing
Kirstie Alley as Saavik
and Starring
Ricardo Montalban as Khan
Stardate 8130.4
The Federation Starship U.S.S. Enterprise is on routine training maneuvers, and Admiral James T. Kirk (William Shatner) seems resigned to the fact that this inspection may well be the last space mission of his career.

But Khan is back.

Aided by his exiled band of genetic supermen, Khan (Ricardo Montalban) - brilliant renegade of 20th century Earth - has raided Space Station Regula One, stolen a top secret device called Project Genesis, wrested control of another Federation starship, and now schemes to set a most deadly trap for his old enemy Kirk...with the threat of universal Armageddon!

Last Updated: January 20, 1997
©1997 Blam Entertainment Group